Organic food associated with 58% lower risk of birth defects
Posted on Wed, 2 Mar 16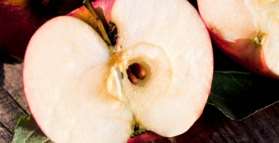 A study from Norway has found that that women who ate organic food during pregnancy were 58% less likely to deliver boys with a common urogenital birth defect.
The health benefits of organic food are often hotly debated, but the reality is there is a lack of research in this area so the jury is still out. Beyond potential nutritional benefits, a key reason people choose organic is to lower their exposure to pesticides and herbicides and previous research has found that eating organic can dramatically reduce exposure.
One of the potential adverse effects of exposure to environmental chemicals in non-organic food is their effect on reproductive hormones, or endocrine disrupting effects. A time this may be particularly important is during pregnancy, when environmental chemicals could interfere during critical stages of early development.
To see if there was a relationship between organic food and hypospadias, a common urogenital birth defect, a research group led by the Division of Environmental Medicine, Norwegian Institute of Public Health, looked at organic food consumption during pregnancy and prevalence of hypospadias at birth in some 35,107 women.
It was found that women who reported "sometimes, often, or mostly" eating organic food during pregnancy were 58% less likely to deliver boys with hypospadias than mothers who never ate any.
"Consumption of organic food has been associated with lower urinary concentrations of pesticide metabolites in children and adults," commented the study investigators. "Pesticide exposure could hypothetically lead to hypospadias via hormonal or placental disturbances."
However, the study is limited by lack of direct measures of pesticide exposure, and the fact that eating organic food may be related to other behaviors that would reduce chemical exposure from items such as cleaning products, personal care products and plastic food storage containers.
"To improve public health," they concluded, "pregnant women are encouraged to eat more vegetables regardless of how they are produced, and choosing the organic alternative might give additional benefits. However, the replication of our findings in other cohorts is warranted."
Reference:
Brantsæter AL, et al. Organic food consumption during pregnancy and hypospadias and cryptorchidism at birth: the Norwegian Mother and Child Cohort Study (MoBa). Environ Health Perspect 124(3):357–364 (2016), doi:10.1289/ehp.1409518.
Tags: Organic, Pesticides, Pollution, Detox
Related Articles
Comments