Organic diet lowers pesticide levels in kids
Posted on Mon, 12 Oct 15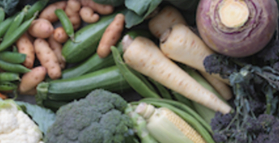 Pesticide residues in food are an important source of exposure to toxic chemicals in children, and an increasing number of studies suggest an organic diet can help reduce exposure.
Previously an organic diet was shown to quickly reduce some measures of pesticide levels in adults by 89% and 100% in kids (1,2). And more recently researchers reported the results of an organic diet study in kids living in agricultural areas, where risk of exposure to pesticides is high (3).
In the new report, children aged children 3-6 years of age consumed organic food for 7 days and were measured for metabolites of exposure to organophosphorous, pyrethroid, and other pesticides against a non-organic diet.
The organic diet was found to significantly reduce a number of key markers including metabolites of organophosphorous insecticides dialkylphosphates (40% reduction) and dimethyl dialkylphosphates (49%) and the herbicide 2,4-dichlorophenoxyacetic acid (25%).
The long-term health effects of such reductions remain to be proven, but as Alan R. Gaby, MD has poignantly observed; "While the benefits of eating organic food have not been proved scientifically, there is also no convincing evidence that eating pesticide-laden foods is safe."
References:
Oates L, Cohen M, Braun L, Schembri A, Taskova R. 2014. Reduction in urinary organophosphate pesticide metabolites in adults after a week-long organic diet. Environ Res 132:105–111.
Lu C, Barr DB, Pearson MA, Waller LA. 2008. Dietary intake and its contribution to longitudinal organophosphorus pesticide exposure in urban/suburban children. Environ Health Perspect 116:537–542; doi:10.1289/ehp.10912.
Bradman A, et al. Effect of Organic Diet Intervention on Pesticide Exposures in Young Children Living in Low-Income Urban and Agricultural Communities. Environ Health Perspect. 2015 Oct;123(10):1086-93
Tags: Pesticides, Organic Food, Detoxification
Related Articles
Comments