Environmental pollutants, not obesity may drive diabetes development
Posted on Mon, 9 Nov 09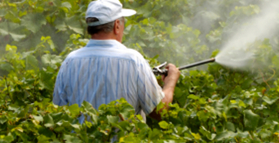 Common environmental pollutants may cause type-2 diabetes, in fact this association has been found to be so strong that it is challenging notions that diabetes is simply the end result of being overweight.
What you can't see, can harm you
A principle source of exposure to environmental pollutants is through the food we eat. Foods such as fish, animal fat, dairy products and vegetables may contain traces of chemicals such as pesticides and herbicides as well as other industrial chemicals (1-2). Persistent organic pollutants, (POPs) are defined as chemical substances that persist in the environment, bio-accumulate through the food chain, and pose a risk of causing adverse effects to human health and the environment. The ubiquitous presence of these chemicals in our environment is of concern as there is no known safe level of exposure (3).
Diabetes due to environmental pollution
A remarkable report published in the journal Diabetes Care in July 2006 bought to light a link between low-level exposure to common environmental pollutants and type 2 diabetes in the general population (4). Since the publication of this report several studies across different population groups have reported an association between background levels of POPs and diabetes prevalence. One of the most interesting findings from these studies is that obese individuals who have low levels of POPs are not at risk for diabetes (5). This finding suggests that environmental pollutants, not obesity are responsible for the development of diabetes.
Click here for practical tips on minimising exposure to environmental pollutants and increasing their detoxification
References
1. Peshin SS et al. Potential food contaminants and associated health risks. Acta Pharmacol Sin. 2002 Mar;23(3):193-202.
2. Duarte-Davidson R, Jones KC. Polychlorinated biphenyls (PCBs) in the UK population: estimated intake, exposure and body burden. Sci Total Environ. 1994 Jul 11;151(2):131-52.
3. Wigle DT, Lanphear BP (2005) Human health risks from low-level environmental exposures: No apparent safety thresholds. PLoS Med 2(12): e350.
4. Lee DH, Lee IK, Song K, et al. A strong dose-response relation between serum concentrations of persistent organic pollutants and diabetes: results from the National Health and Examination Survey 1999-2002. Diabetes Care. 2006 Jul;29(7):1638-44.
5. Carpenter DO. Environmental contaminants as risk factors for developing diabetes. Rev Environ Health. 2008 Jan-Mar;23(1):59-74
Tags: Type 2 Diabetes, Environmental Pollutants, Toxins, Detoxification
Related Articles
Comments