Curcumin cuts diabetes risk
Posted on Sat, 26 Jan 13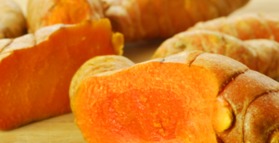 Curcumin, the yellow pigment from turmeric, has been shown to prevent type-2 diabetes in people at high risk and deserves attention as a safe, cheap anti-diabetic medicine.
In a randomized, double-blinded, placebo- controlled trial a group of people at high who met the criteria for pre-diabetes, placing them at high risk of developing type-2 diabetes, took either placebo or curcumin (250 mg pure curcumin from turmeric) twice daily for 9-months.
At assessment after 9-months those who took curcumin had a significantly lower incidence of type 2 diabetes. The curcumin treatment also appeared to improve overall function of β-cells, which play an important role in maintaining healthy blood sugar.
Because curcumin is safe and could be produced freely at a relatively low cost compared to pharmaceutical medication, curcumin should be the subject of further research as an anti-diabetic medicine.
Reference:
Chuengsamarn S, Rattanamongkolgul S, Luechapudiporn R, Phisalaphong C, Jirawatnotai S. Curcumin extract for prevention of type 2 diabetes. Diabetes Care. 2012 Nov;35(11):2121-7.
Tags: Turmeric, Curcumin, Type 2 Diabetes
Related Articles
Comments