Curcumin for colorectal cancer prevention: clinical trial
Posted on Mon, 27 Jun 11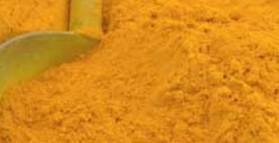 A small exploratory clinical trial of curcumin, the yellow pigment in the spice turmeric, suggests that a higher dose can reduce precancerous changes in the colon.
In a small open label study 44 smokers were administered either 2 grams or 4 grams of curcumin daily for 30 days (1). After treatment there was a 40% reduction in precancerous lesions in the group receiving the 4 gram dose, but no reductions were seen in the group receiving 2 grams. Both doses were very well tolerated.
Curcumin has demonstrated many anti-cancer effects but its absorption is poor thus, as this study suggests, its use may be better suited to local effects in the digestive system. Based on this very promising study, its low cost, wide availability and relative safety, curcumins potential as a cancer preventative certainly warrants further research.
The effective 4 gram dose used in this study is quite safe (2) however you may need to use a dietary supplement to achieve this amount of curcumin as it would be difficult to do so by using tumeric in cooking alone.
Source:
1. Carroll RE, et al. Phase IIa clinical trial of curcumin for the prevention of colorectal neoplasia. Cancer Prev Res (Phila). 2011 Mar;4(3):354-64.
2. Cheng AL, et al. Phase I clinical trial of curcumin, a chemopreventive agent, in patients with high-risk or pre-malignant lesions. Anticancer Res. 2001 Jul-Aug;21(4B):2895-900.
Tags: Curcumin, Tumeric, Colorectal Cancer, Colon Cancer
Related Articles
Comments