Curcumin for major depressive disorder
Posted on Sun, 13 Oct 13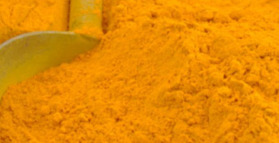 The spice turmeric has a long history of use as a medicine for stress and mood, and a new study has shown for the first time that curcumin has a powerful anti-depressant effect within just 6 weeks.
In the study, 60 people with major depression were treated with 20 mg fluoxetine (Prozac), 1000 mg curcumin or their combination for 6 weeks.
All the treatments were well tolerated and equally effective for the relief of depressive symptoms, suggesting curcumin may be as effective as anti-depressant medication. "This study provides first clinical evidence that curcumin may be used as an effective and safe modality for treatment in patients with Major Depressive Disorder" commented the study investigators.
The curcumin used in this study was BCM-95, a brand of curcumin with enhanced bioavailability.
Reference:
Sanmukhani J, Satodia V, Trivedi J, Patel T, Tiwari D, Panchal B, Goel A, Tripathi CB. Efficacy and Safety of Curcumin in Major Depressive Disorder: A Randomized Controlled Trial. Phytother Res. 2013 Jul 6. doi: 10.1002/ptr.5025. [Epub ahead of print]
Tags: Turmeric, Curcumin, Depression
Related Articles
Comments