Reconnect with your tribe
Posted on Wed, 7 Oct 09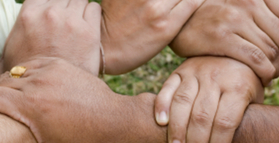 It has been proposed that we are currently experiencing such high rates of stress related disorders including anxiety, insomnia, drug abuse and depression because as a society we have become disconnected socially. In our not to distant past we generally lived in close-knit groups with strong social support, a shared world view and a clear sense of purpose and belonging (1). In the modern world regaining this social connectedness has important implications for our health and wellness.
The social glue that binds your health
Loneliness and a low level of social connection has been associated with a state of chronic physiological stress whereas on the other hand having just three or more regular social contacts is associated with a better overall state of health (2). In contrast to the "stressed out" culture of the modern industrialised world there are several well documented examples of traditional societal groups that have retained their sense of family, social connection, community and belonging. One of the striking characteristics of these people is their positive outlook, sense of happiness and remarkable health and longevity (3).
It runs deeper than a "pill for an ill"
While a common approach to dealing with the effects of chronic stress in modern society is to pop a pill, medications for depression, anxiety and insomnia are not without risk of adverse effects and often do not work any better than placebo (4-7). Perhaps this is because the problem is not a lack of medication, but a lack of social connection.
Good quality social relationships are crucial to promoting optimal health and wellness (8). In the book The Blue Zones it is suggested that some essential elements to developing social connectedness are making regular time for family and close friends, identifying people in your social circle that positively influence your behaviour and developing a positive, likeable, infectious attitude.
In addition Dr Bruce McEwen, a pioneer in stress research, suggests a holistic approach to combating and protecting against stress. He says that "the major goal should be to try to improve sleep quality and quantity, to have good social support and a positive outlook on life, to have positive self-esteem, to maintain a healthy diet, to avoid smoking and to engage in regular moderate physical activity (2)." He also urges governments and businesses to consider changes that encourage these beneficial lifestyle practices within the workplace, and society.
References
1. Eaton SB, Strassman BI, Nesse RM, et al. Evolutionary health promotion. Prev Med. 2002 Feb;34(2):109-18.
2. McEwen BS. Physiology and neurobiology of stress and adaptation: central role of the brain. Physiol Rev. 2007 Jul;87(3):873-904.
3. Robbins J. Healthy at 100: The Scientifically Proven Secrets of the World's Healthiest and Longest-Lived Peoples. Random House Publishing. 2006.
4. Papakostas GI. Tolerability of modern antidepressants. J Clin Psychiatry. 2008;69 Suppl E1:8-13.
5. Khan, A., Khan, S. R., Walens, G., Kolts, R., & Giller, E. L. (2003). Frequency of positive studies among fixed and flexible dose antidepressant clinical trials: an analysis of the food and drug administration summary basis of approval reports. Neuropsychopharmacology 28, 552– 557
6. Nutt D. Overview of Diagnosis and Drug Treatments of Anxiety Disorders CNS Spectr. 2005;10(1):49-56
7. DeVane CL et al. Anxiety Disorders in the 21st Century: Status, Challenges, Opportunities, and Comorbidity With Depression. Am J Manag Care. 2005;11:S344-S353
8. Ryff CD, Singer BH. Social environments and the genetics of aging: advancing knowledge of protective health mechanisms. J Gerontol B Psychol Sci Soc Sci. 2005 Mar;60 Spec No 1:12-23.
Tags: Social Connection, Stress, Anxiety, Depression
Related Articles
Comments