Better nutrition relieves depression fast
Posted on Wed, 25 Nov 15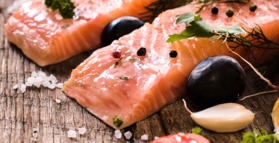 Depression is very common but poorly treated in young adults, yet a safe and effective approach is already widely available: dietary change. In a new study increasing omega 3 intake was found to resolve clinical depression in 67% of people within just 21-days.
"Depression affects 350 million people worldwide, making it one of the most common mental disorders," highlighted the authors of the new study. "American College Health Association recently found that 30% of undergraduate students have felt so depressed that it hindered their ability to function and 6% seriously considered suicide in the 12 months prior to the survey."
"Despite the prevalence, over 33% of cases in developed countries and 66% of cases among undergraduate students do not receive proper treatment. Therefore, it is crucial to assess and develop appropriate treatment interventions that are accessible to the general public."
With this in mind they decided to test the effects of omega 3 supplements on depressive symptoms in young adults. Low dietary intakes of omega 3 are common, known to increase depressive symptoms, and supplementation has been shown to have anti-depressant effects in several previous studies.
Un-medicated and untreated undergraduate students with symptoms of clinical depression were given low-dose omega 3 supplements (1.4 g, 1000 mg EPA and 400 mg DHA) for 21-days.
After 21-days of supplementation there was a significant difference in depression status between groups; 67% of the group who took omega 3 no longer met criteria for being depressed, while only 20% in the placebo group were no longer depressed.
"This study is the first to demonstrate the positive psychological effects of short-term low doses of omega-3 supplementation on undergraduate students with depression. The nature of the dose, equivalent to two fatty fish meals per week, is something that could easily be modified in the diet of under-graduate students," they concluded.
Reference:
Ginty AT, Conklin SM. Short-term supplementation of acute long-chain omega-3 polyunsaturated fatty acids may alter depression status and decrease symptomology among young adults with depression: A preliminary randomized and placebo controlled trial. Psychiatry Res. 2015 Sep 30;229(1-2):485-9.
Tags: Depression, Food As Medicine, Fish Oil, Omega 3
Related Articles
Comments