Migraines attacks reduced by omega 3
Posted on Thu, 20 Jul 17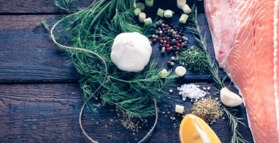 A review of clinical studies of omega 3 fatty acids in people with migraine has found that they can significantly reduce duration of attacks.
Symptoms of migraine headaches include neck pain, nausea, vomiting, and sensitivity to light, sound, or smell, with attacks lasting 2 to 72 hours.
Although drug treatments are used for migraine, they have inconsistent effects and carry risk of side-effects. Safer and more effective treatments are needed.
There has been considerable interest in omega-3 fatty acids, especially eicosapentaenoic acid (EPA) and docosahexaenoic acid (DHA) as a treatment option for migraine as they have potent anti-inflammatory activity and are very safe.
Reviewing several clinical studies of omega-3 in people with migraine, a recent meta-analysis found that omega-3 supplements or a high omega-3 diet with concurrent reduction in omega-6 fatty acids leads to a significant reduction of approximately 3.44 hours in the duration of migraine.
Of all the studies included, one that involved increasing dietary omega-3 fatty acids and concurrent reduction in omega-6 appeared to be particularly effective. This is likely due to a dual benefit of increasing anti-inflammatory omega-3 fatty acids, while decreasing pro-inflammatory omega-6 fatty acids.
Overall the studies included in the analysis were limited by important problems in their design. "Further randomized controlled trials with high methodological quality, adequate sample sizes, no preventive medications, and relevant confounding factors are required to improve our knowledge regarding migraine treatment," concluded the study authors.
Reference:
Maghsoumi-Norouzabad L, Mansoori A, Abed R, et al. Effects of omega-3 fatty acids on the frequency, severity, and duration of migraine attacks: A systematic review and meta-analysis of randomized controlled trials. Nutr Neurosci. 2017 Jun 30:1-10.
Tags: Migraine, Headache, Omega 3
Related Articles
Comments