Omega 3 beats cholesterol for predicting heart disease
Posted on Tue, 27 Mar 18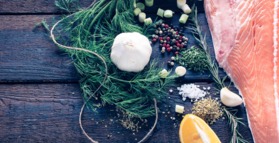 Results from a new study found that people with higher blood levels of omega 3 had a 34% lower risk for death from any cause, and that blood omega 3 was a stronger predictor of future risk of cardiovascular disease than cholesterol.
A study recently published in the Journal of Clinical Lipidology measured the "Omega-3 Index" (the EPA+DHA content of red blood cell membranes) in 2500 participants in the Offspring cohort of the Framingham Heart Study and examined associations with risk for incident cardiovascular disease and death from any cause.
Their results revealed that the risk for death from any cause was reduced by about 34% comparing the lowest Omega-3 Index participants to the highest.
Interestingly, the research team also compared heart disease risk prediction between serum cholesterol and the Omega-3 Index. In head-to-head comparisons a higher Omega-3 Index was significantly associated with reduced risk, but cholesterol was not.
Overall, this study suggests that higher intake of omega 3 fatty acids, especially EPA and DHA, reduce risk of cardiovascular disease and increase longevity.
To achieve an Omega 3 Index in the highest quintile (>6.8%), the authors suggest an adult would require 1300 mg of EPA/ DHA daily, equivalent to a single serving of 100 g of farmed salmon or the equivalent in fish oil capsules.
Further research is needed to understand whether the Omega 3 Index is a more important biomarker than blood cholesterol.
Reference:
Harris WS, Tintle NL, Etherton MR, Vasan RS. Erythrocyte long-chain omega-3 fatty acid levels are inversely associated with mortality and with incident cardiovascular disease: The Framingham Heart Study. J Clin Lipidol. 2018 Mar 2. pii: S1933-2874(18)30061-8.
Tags: Omega 3, Heart Disease, Cholesterol, Longevity
Related Articles
Comments