Chocolate Eaters Lower Stroke Risk
Posted on Sun, 30 Sep 12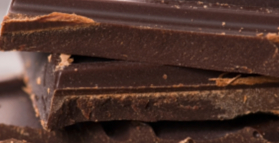 More evidence that eating chocolate cuts stroke risk from a new study in middle aged men.
Some 37,103 men aged 45 to 79 with no history of heart disease had their chocolate consumption assessed using a food-frequency questionnaire and were then reviewed some 10 years later.
The researchers found that high chocolate consumption (62.9 grams per week) was associated with a 17% lower risk of stroke compared to men who ate no chocolate.
This link between chocolate and stroke was also highlighted in an analysis in the British Medical Journal in 2011 which found that the highest levels of chocolate consumption was associated with a 29% reduction in stroke compared with the lowest levels.
Chocolate (in particular dark chocolate) is a rich source of phytonutrients called flavonoids which have potent antioxidant and anti-inflammatory effects.
References:

Larsson SC, Virtamo J, Wolk A. Chocolate consumption and risk of stroke: A prospective cohort of men and meta-analysis. Neurology. 2012 Aug 29. [Epub ahead of print]
Tags: Chocolate, Stroke, Heart Disease
Related Articles
Comments