CoQ10 improves survival in heart failure
Posted on Mon, 3 Nov 14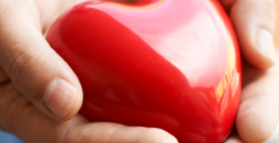 The first study of its kind suggests that CoQ10 may be an important treatment for people with heart failure, with a reduction in cardiovascular death of 43%.
The results of a long-term study have recently suggested important benefits from CoQ10. Over the course of 2-years a group of people with moderate to severe heart failure received 100 mg of CoQ10 three times daily in addition to their regular medication. It was hypothesized that CoQ10, an antioxidant and enhancer of heart bioenergetics, might improve heart function, reduce symptoms and increase survival rates.
At the end of the study it was found that CoQ10 halved the time to first major adverse cardiovascular event, reduced cardiovascular death by 43%, reduced all-cause mortality by 42% and improved the patients' symptoms after the 2-years.
Commenting on the results lead investigator Professor Mortensen from the Department of Cardiology, Copenhagen University Hospital said; "Other heart failure medications block rather than enhance cellular processes and may have side effects. Supplementation with CoQ10, which is a natural and safe substance, corrects a deficiency in the body and blocks the vicious metabolic cycle in chronic heart failure called the energy starved heart."
"CoQ10 is the first new medication to improve survival in chronic heart failure and it should be added to standard therapy," said Professor Mortensen.
References:
Mortensen SA, Rosenfeldt F, Kumar A, Dolliner P, Filipiak KJ, Pella D, Alehagen U, Steurer G, Littarru GP; Q-SYMBIO Study Investigators. The Effect of Coenzyme Q(10) on Morbidity and Mortality in Chronic Heart Failure: Results From Q-SYMBIO: A Randomized Double-Blind Trial. JACC Heart Fail. 2014 Sep 25. pii: S2213-1779(14)00336-9.
Ezekowitz JA. Time to Energize Coenzyme Q(10) for Patients with Heart Failure? JACC Heart Fail. 2014 Sep 26. pii: S2213-1779(14)00337-0.
European Society of Cardiology. Press release: A potential new approach to improve heart failure outcome. Coenzyme Q10 decreases all cause mortality by half in randomised double blind trial.
Tags: CoQ10, Heart Disease, Cardiovascular Health
Related Articles
Comments