Alcohol: a double edged sword
Posted on Tue, 25 Aug 09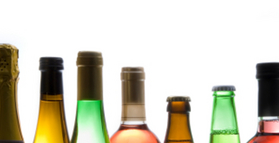 While alcohol may benefit your health by reducing heart disease risk this benefit is often outweighed by the effects of heavy drinking which include road traffic and other injuries, violence, chronic liver disease, cancers, alcohol abuse disorders and heart diseases such as stroke and high blood pressure. So how much alcohol is too much?
The following are current guidelines for healthy alcohol consumption (4,6) ranging from healthy drinking (light-moderate) to unhealthy drinking (heavy and binge):
Light-moderate drinking: no more than 1 drink per day for women and no more than 2 drinks per day for men.
Heavy drinking: an average of more than 2 drinks per day for men and more than 1 drink per day for women.
Binge drinking: an average of more than 5 drinks per day for men and more than 4 drinks per day for women more than once in a 6 month period.
The protective effect of alcohol against heart disease is the most important benefit of light-moderate drinking. Studies generally show a 30-35% reduction in heart disease risk even in people already following a healthy lifestyle. Despite the popular notion that red wine is a healthier choice, most studies show equal benefit from all types of alcohol. What is more important than type of alcohol is drinking patterns and behaviour. Deviation from light-moderate drinking, even occasionally, quickly increases risk of serious health problems (5).
Heavy drinking can negatively affect mental, cardiovascular and gastrointestinal health. Diseases associated with heavy drinking include sleep disorders, sexual dysfunction, impotence, peptic ulcers, exacerbation of mental health complaints, withdrawal symptoms, liver disease and several cancers. In addition binge drinking, a very common form of alcohol abuse, is responsible for a significant number of alcohol related deaths (6,7).
In short the best advice is that, because of health risks, heavy drinkers should drink less or not at all, in most circumstances moderate drinkers need not change their drinking habits and those who don't drink should not begin drinking for health reasons (8). There is no safe level of alcohol during pregnancy (9).
References
1. McGinnis, J. M., & Foege, W. H. (1993). Actual causes of death in the United States. Journal of the American Medical Association, 270, 2207–2212.
2. World Health Organisation. Alcohol. http://www.who.int/substance_abuse/facts/alcohol/en/index.html . Accessed on-line 23-08-2009.
3. Ford ES et al. Healthy Living Is the Best Revenge. Findings From the European Prospective Investigation Into Cancer and Nutrition–Potsdam Study. Arch Intern Med. 2009;169(15):1355-1362.
4. Centres for Disease Control and Prevention. Alcohol. http://www.cdc.gov/alcohol/terms.htm#excessive. Accessed on-line 23-08-2009.
5. O'Keefe JH, Bybee KA, Lavie CJ. Alcohol and cardiovascular health: the razor-sharp double-edged sword. J Am Coll Cardiol. 2007 Sep 11;50(11):1009-14.
6. Courtney KE, Polich J. Binge drinking in young adults: Data, definitions, and determinants.Psychol Bull. 2009 Jan;135(1):142-56.
7. Standridge JB, Zylstra RG, Adams SM. Alcohol consumption: an overview of benefits and risks. South Med J. 2004 Jul;97(7):664-72.
8. Balckhurst DM, Marais A. Alcohol--foe or friend? S Afr Med J. 2005 Sep;95(9):648-54.
9. Mengel MB, Searight HR, Cook K. Preventing alcohol-exposed pregnancies. J Am Board Fam Med. 2006 Sep-Oct;19(5):494-505.
Tags: Alcohol, Cardiovascular Disease, Heart Disease, Binge Drinking
Related Articles
Comments