Turmeric & boswelia synergy
Posted on Tue, 16 Jan 18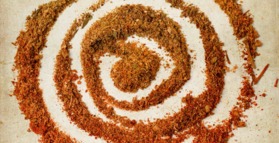 A combination of turmeric and boswelia extract was more effective for osteoarthritis than an equivalent dose of turmeric alone, suggesting a synergistic benefit of the combination.
In herbal medicine, "synergy" often refers to the idea that one herb enhances the action of the other to produce an effect greater than that which may be obtained with either one of the herbs in equivalent quantity. But despite the practice of combining herbs being steeped in tradition, there is relatively little scientific data that supports true synergistic effects [1].
A recent study, however, is one of the first to suggest a synergistic effect of a herbal combination. In people with osteoarthritis, a 500 mg turmeric extract capsule was compared to a 500 mg capsule providing a combination of turmeric and boswelia extract (350 mg and 150 mg, respectively) given three times daily [2].
The combination of turmeric and boswelia significantly improved physical function and relieved pain compared to placebo after 3-months. In contrast, turmeric alone was not quite as effective for joint pain relief.
The authors propose that the difference in efficacy may be due to boswelia increasing the bioavailability of curcumin, however this is theoretical. Another possibility is that the combination of the two herbs provides multiple actives that work together to produce better clinical effects, although this does not prove it is synergistic as it is also possible that boswelia is simply more effective. Indeed, some boswellia extracts have demonstrated good clinical effects at just 100 mg daily, a considerably lower dose than the 1000 mg to 2000 mg typically used of turmeric extract.
In any case, this study suggests that the combination of turmeric and boswelia extract may be more effective than turmeric alone for arthritic pain relief.
References:
Gertsch J. Botanical drugs, synergy, and network pharmacology: forth and back to intelligent mixtures. Planta Med. 2011 Jul;77(11):1086-98.
Haroyan A, Mukuchyan V, Mkrtchyan N, et al. Efficacy and safety of curcumin and its combination with boswellic acid in osteoarthritis: a comparative, randomized, double-blind, placebo-controlled study. BMC Complement Altern Med. 2018 Jan 9;18(1):7.
Tags: Arthritis, Pain, Inflammation, Herbs, Boswelia, Turmeric
Related Articles
Comments