Omega-3 relieves menstrual cramps and pain
Posted on Mon, 20 Feb 12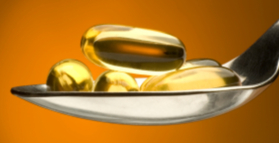 While many women pop an anti-inflammatory drugs for menstrual pain a safer option is popping a daily fish oil capsule.
Studies have suggested that the natural anti-inflammatory action of omega-3 found in fish oils can relive menstrual pain, which has been confirmed in a recent study in which a group of women with painful periods (dysmenorrhoea) took 1 capsule of omega-3 fish oil or placebo daily for 3 months.
"Reduction in pain intensity was observed after 3 months of treatment with omega-3 fatty acids," noted the study investigators. Women who received omega-3 fatty acids also required significantly fewer anti-inflammatory drugs.
While omega-3 supplements may not work as quick as medication they do not carry the same risk of cardiovascular, gastrointestinal and kidney damage making a simple, low-cost daily dose of omega-3 an attractive alternative.
Reference:
Rahbar N, Asgharzadeh N, Ghorbani R. Effect of omega-3 fatty acids on intensity of primary dysmenorrhea. Int J Gynaecol Obstet. 2012 Jan 17. [Epub ahead of print]
Tags: Fish Oil, Omega-3, Menstrual Pain, Premenstrual Syndrome
Related Articles
Comments