Omega-3 for a bigger, better brain?
Posted on Mon, 22 Oct 12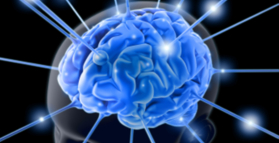 A clinical study involving 281 people aged 65 years or older has found that omega-3 fatty acids may prevent brain degeneration with age.
The study participants blood levels of omega-3 fatty acid and brains were measured using MRI at baseline and then examinations were performed again 4 years later.
It was discovered that higher levels of the omega-3 fatty acids were associated with lower grey matter atrophy of the right hippocampal/parahippocampal area and of the right amygdala. These areas of the brain are important for mood, memory and cognitive function.
Those who had lower omega-3 and a higher rate of brain atrophy or breakdown had a greater 4-year decline in memory and more depressive symptoms.
One of the ways by which omega-3 fatty acids may protect against age related cognitive decline is by reducing the breakdown of the brains grey matter typical of dementia and Alzheimer's disease. This is not the first study to link omega-3 with a larger, healthier brain.
Reference:
Samieri C, Maillard P, Crivello F, et al. Plasma long-chain omega-3 fatty acids and atrophy of the medial temporal lobe. Neurology. 2012 Aug 14;79(7):642-50.
Tags: Omega-3, Dementia, Brain Aging
Related Articles
Comments