B vitamins linked to better cognitive health
Posted on Tue, 19 Sep 17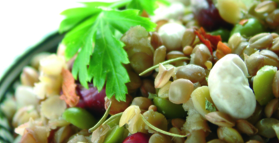 Higher intake of B vitamins through young adulthood improves cognitive function in midlife, adding to evidence that B vitamins are crucial for protecting against cognitive decline.
It is well established that certain B vitamins play an important role in preserving good mental health. Low dietary intake of Vitamins B6, B12 and folate have previously been associated with impaired cognition or risk of dementia. Furthermore, B-vitamin supplementation has been found to improve cognitive function in older age people with a low dietary intake and early signs of cognitive impairment.
Little is known, however, about the effects of dietary intake of B vitamins early in life and cognitive health outcomes in midlife and older age. So, to see if there is a relationship researchers looked at dietary records of a long-term study of people over a 25-year period. Participants were aged 18-30 years at baseline and had their diet history, including supplemental B vitamins, examined at years 0, 7, and 20. Then at year 25 and a mean age of 50 years they had their cognitive function assessed.
Comparing the highest quintile of B vitamin intake with the lowest they found that there was a significant relationship between higher B vitamin intake and niacin, folate, vitamin B6, and vitamin B12 intake and better cognitive performance.
"Greater intake of B vitamins throughout young adulthood may be associated with better cognitive performance in middle age, especially in the test for psychomotor speed," wrote the study authors in the American Journal of Clinical Nutrition. 'Considering the rapidly growing population at risk for dementia, increasing B-vitamin intake in early life may have important implications for cognitive performance later in life."
Reference:
Qin B, Xun P, Jacobs DR Jr, et al. Intake of niacin, folate, vitamin B-6, and vitamin B-12 through young adulthood and cognitive function in midlife: the Coronary Artery Risk Development in Young Adults (CARDIA) study. Am J Clin Nutr. 2017 Aug 2. pii: ajcn157834. doi: 10.3945/ajcn.117.157834. [Epub ahead of print]
Tags: B Vitamins, Brain, Cognitive, Dementia
Related Articles
Comments