Diet and exercise reverses cognitive decline
Posted on Mon, 11 Jun 18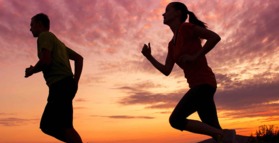 A remarkable case report describes the reversal of early cognitive decline with an intensive nutritional and fitness program within just 12-weeks.
Previous studies have suggested that cognitive decline could be related to changes in brain energy metabolism in some people. Ketogenic diets and supplementation with medium chain triglycerides have been studied as nutritional approaches to improving brain energy metabolism, with preliminary clinical evidence to suggest they may be able to reverse cognitive decline.
A woman with early stage cognitive decline and metabolic syndrome (a cluster of cardiovascular risk factors including poor blood glucose metabolism) was enrolled in a nutrition protocol that aimed to raise plasma ketones through low a carbohydrate/high fat diet, calorie restriction (fasting) and high intensity interval training. In addition, she was instructed to play brain training games on a mobile device five days per week.
Before treatment her memory complaints included problems remembering a grocery list or people's names as well as problems with staying focused on the task at hand or forgetting why she entered a room. Her score on a cognitive assessment test was 22 out of 30 (meeting the diagnosis of mild cognitive impairment).
After treatment, she had observable improvements in her cognitive function and her test results were 30 out of 30 (normal). Her brain training game score improved by 114% for problem solving, 115% for focus, 27% for memory, 105% for mental agility, and 30% for language. And her cardiovascular risk biomarkers also improved.
"This novel approach of changing nutrition status for those with early stage memory loss warrants further clinical investigations based on the promising results produced in this case study and recent clinical trials," concluded the study investigators.
Reference:
Dahlgren K, Gibas KJ. Ketogenic diet, high intensity interval training (HIIT) and memory training in the treatment of mild cognitive impairment: A case study. Diabetes Metab Syndr. 2018 Apr 11. pii: S1871-4021(18)30116-4.
Tags: Brain, Cognitive Decline, Dementia, Exercise, Diet
Related Articles
Comments