A capsule a day keeps depression away
Posted on Mon, 25 Apr 11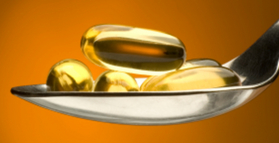 A new study suggests that just one capsule of fish oil a day may relieve depression in older age individuals.
People suffering from depression have low levels of omega-3 fatty acids compared to those who are not clinically depressed (1). There is also some evidence to suggest taking omega-3 supplements can improve mood when taken alongside antidepressant medication (2). However, the effect of omega-3 on depression is not clear and questions remain around such things as the optimal dose and treatment time.
Previous studies of omega-3 fatty acids in depression have often used a concentrated component of fish oil, eicosapentaenoic acid (EPA), at high doses. To see if a lower dose of standard fish oil could improve depression a group of older age individuals (65 years or older) received either placebo or a 1000 mg capsule of fish oil (containing 300 mg EPA and 300 mg docosahexaenoic acid [DHA]) for 6 months.
At the end of the treatment period those taking the fish oil capsule had significant improvements in depressive symptoms, an effect that was also clinically more effective than placebo. It seems a low dose of fish oil taken over a number of months may be effective in the treatment of mild to moderate depression in the elderly.
Incidentally, this low dose of fish oil is roughly the same amount recommended by many authorities for the prevention of heart disease.


References:
1. Appleton KM, Rogers PJ, Ness AR. Updated systematic review and meta-analysis of the effects of n-3 long-chain polyunsaturated fatty acids on depressed mood. Am J Clin Nutr. 2010 Mar;91(3):757-70.
2. Lin PY, Huang SY, Su KP. A meta-analytic review of polyunsaturated fatty acid compositions in patients with depression. Biol Psychiatry. 2010 Jul 15;68(2):140-7.
3. Tajalizadekhoob Y, et al. The effect of low-dose omega 3 fatty acids on the treatment of mild to moderate depression in the elderly: a double-blind, randomized, placebo-controlled study. Eur Arch Psychiatry Clin Neurosci. 2011 Feb 12. [Epub ahead of print]
Tags: Fish Oil, Omega-3, Depression
Related Articles
Comments