Energy drinks, sleep, stress, and depression
Posted on Wed, 16 Nov 16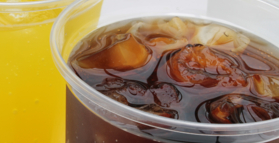 Energy drink consumption is linked to sleep problems, stress, depression, and suicidality, according to a new study that adds to growing evidence of adverse effects on mental health in adolescents.
Although energy drinks are marketed for better mental and physical performance, the emerging science suggests exactly the opposite.
Caffeine, one of the main ingredients in energy drinks, "has been associated with difficulty sleeping and tiredness in the mornings, falling asleep at school, behavioral problems, violence and conduct disorder, and low academic achievement," point out the authors of a new study exploring associations with energy drink use and mental health.
Another major ingredient in energy drinks, sugar, has also been associated with adverse effects including aggression, depression, suicidal ideation, and psychological distress [1-3].
Concerns over the rapidly increasing exposure of children and adolescents to energy drinks prompted researchers in Korea to explore potential links to mental health in a national survey of some 68,043 adolescents [4].
Their analysis revealed that both moderate (1–4 times/week) and high (≥5 times a week) energy drink consumption was significantly associated with sleep dissatisfaction, severe stress, depressive mood, suicidal behaviors, with a higher risk in more frequent users. They also found that the detrimental effects were amplified in those who frequently ate junk food.
While this study examined associations and cannot prove causality, it does suggest that regular energy drink consumption in adolescents is related to risk of mental health problems. It is possible that energy drinks do contribute to deterioration of mental health, both directly and by interacting with generally unhealthy diets.
"The effects of energy drinks may be best understood in combination with other aspects of diet," commented the study authors. "…both energy drink and junk food consumption may adversely affect adolescents' mood and behaviour."
References:
Tags: Energy Drinks, Sugar, Depression, Mental Health
Related Articles
Comments