Fish oil counters air pollution
Posted on Fri, 1 Jun 12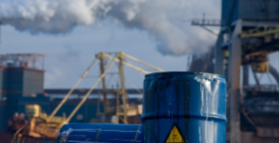 Live in a city? Well, your chances of heart disease are higher because of the air pollution but a fish oil supplement can counter that.
To see if omega-3 fatty acid (fish oil) supplementation could reduce the negative effects of air pollution 29 healthy middle-aged people took 3000 mg per day of either fish oil or olive oil for 4 weeks. At the end of the 4 weeks they were exposed via a chamber to either air pollution or filtered air for 2 hours and their cardiovascular responses were measured.
Fish oil supplementation appeared to improve several measures of cardiovascular function including heart rate and blood cholesterol. For example, LDL cholesterol and triglyceride concentrations increased immediately after exposure to air pollution in the olive oil group, but not in people who had taken fish oil.
City dwellers, especially those at high risk of heart disease might do well to increase dietary omega-3 or take a regular fish oil supplement.
Reference:
Tong H, Rappold AG, Diaz-Sanchez D, Steck SE, Berntsen J, Cascio WE, Devlin RB, Samet JM. Omega-3 Fatty Acid Supplementation Appears to Attenuate Particulate Air Pollution Induced Cardiac Effects and Lipid Changes in Healthy Middle-Aged Adults. Environ Health Perspect. 2012 Apr 19. [Epub ahead of print]
Tags: Fish Oil, Omega-3, Air Pollution
Related Articles
Comments