Turmeric supplement quality
Posted on Tue, 7 Aug 18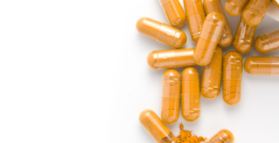 Turmeric supplement quality was recently analysed by scientists at the University of Arizona, who identified possible issues with adulteration.
Turmeric is one of the most popular dietary supplements globally, and like other popular herbs, such as billberry, ginkgo, and rhodiola, issues related to adulteration and quality may be an issue [1-3].
Herb adulteration is a common problem and can involve the use of artificial compounds to 'spike' active plant compounds, dyes, fillers and different plant species [4].
Recently, a research group analysed 87 products available in the US for quality and contaminants [5]. Across all the products most were good quality and matched label claims for curcuminoids, however, 16% of products contained suspiciously high curcumin levels suggesting that they may be illegally spiked with low-cost synthetic curcumin. Furthermore, one product contained lead levels that exceeded recommended limits.
If you are using turmeric extract it may be wise to identify a product that has been batch tested for active ingredients including curcumin (naturally present at around 75-81% of total curcuminoids), demethoxycurcumin, and bisdemethoxycurcumin as well as tested for potential contaminants such as lead.
References:
Tags: Turmeric
Related Articles
Comments