Turmeric changes the microbiome
Posted on Tue, 30 Oct 18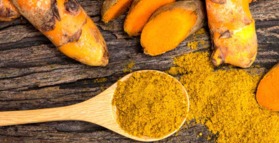 Curcumin and turmeric change the gut microbiome, according to the first human clinical study investigating such effects. This discovery may help explain the turmeric paradox: efficacy despite poor bioavailability.
Clinical studies have shown that turmeric or turmeric extracts are clinically effective despite poor bioavailability [1]. One possible explanation for this "turmeric paradox" is that gastrointestinal effects of the spice may have wider reaching systemic effects [2].
Previous experimental research has indicated that curcumin, one of the many active components of turmeric, can significantly alter gut microbiota and that these alterations of the composition and/ or metabolic activity of gut bacteria may in part explain therapeutic benefits of curcumin [3-4].
To see if turmeric alters gut bacteria in humans, a group of people were enrolled in a study that involved taking turmeric (3000 mg turmeric root plus 3.75 mg black pepper–derived extract of piperine alkaloid [BioPerine]), curcumin (3000 mg of curcumin [Curcumin C3 Complex] plus 3.75 mg BioPerine) or placebo twice daily for 8-weeks [5].
Using gut microbial DNA sequencing it was found that both turmeric and curcumin changed the gut microbiota in a highly similar manner, with the study investigators suggesting that "curcumin may drive the majority of observed changes observed in turmeric-treated subjects."
Overall turmeric and curcumin tended to increase bacterial species richness. Interestingly, although the gut microbiota response to treatment was highly individual there was some concordance in response to turmeric/ curcumin. "Responsive" subjects had a similar microbial signature involving uniform increases in species of polysaccharide-degrading and hydrogen-consuming bacteria.
"This pilot study in healthy subjects has potentially raised more intriguing questions than it has fully answered and emphasizes the complexity of human intervention studies intending to study the effects of these potentially powerful herbal medicines," commented the study investigators. One hypothesis they suggest is that individual variations in turmeric absorption may result in the observed variations in prebiotic-like effects. "Future studies that include a larger human cohort will clarify whether the "responsive" microbiota we identify here are representative and whether less prevalent response signatures in our data may be clearly defined with additional participants," they noted.
If there is indeed a role of the microbiome in mediating individual responses to turmeric and/ or curcumin more research in this area could aid the understanding of its health effects in the context of personalised nutrition.
References:
1. Shen L, Liu CC, An CY, Ji HF. How does curcumin work with poor bioavailability? Clues from experimental and theoretical studies. Sci Rep. 2016 Feb 18;6:20872.
2. Lopresti AL. The Problem of Curcumin and Its Bioavailability: Could Its Gastrointestinal Influence Contribute to Its Overall Health-Enhancing Effects? Adv Nutr. 2018 Jan 1;9(1):41-50.
3. Feng W, Wang H, Zhang P, Gao C, Tao J, Ge Z, Zhu D, Bi Y. Modulation of gut microbiota contributes to curcumin-mediated attenuation of hepatic steatosis in rats. Biochim Biophys Acta Gen Subj. 2017 Jul;1861(7):1801-1812.
4. Shen L, Liu L, Ji HF. Regulative effects of curcumin spice administration on gut microbiota and its pharmacological implications. Food Nutr Res. 2017 Aug 9;61(1):1361780.
5. Peterson CT, Vaughn AR, Sharma V, et al. Effects of Turmeric and Curcumin Dietary Supplementation on Human Gut Microbiota: A Double-Blind, Randomized, Placebo-Controlled Pilot Study. J Evid Based Integr Med. 2018 Jan-Dec;23:2515690X18790725.
Tags: Turmeric, Curcumin, Microbiome
Related Articles
Comments