Curcumin helps relieve depression, according to meta-analysis
Posted on Wed, 2 Mar 16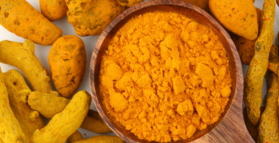 A review of 6 clinical studies suggests curcumin is a safe and effective way to relieve depression, but dose and duration appear to be important.
Turmeric is a popular spice rich in curcuminoids (naturally 3-5%), of which the major curcuminoid is curcumin. Turmeric extracts providing high doses of curcuminoids (typically 85-95%) are increasingly popular as a natural remedy, and one area of particular interest is mental health.
A number of studies have tested the effects of turmeric extract for depression but until now these have not been reviewed in their entirety to see what the overall evidence suggests.
The new meta-analysis has shed slight on some interesting issues around the use of turmeric extract:
Curcumin showed a significant reduction in depression symptoms.
Curcumin was more effective when given for at least 6-weeks.
A dose of 1000mg of curcuminoids daily was more effective than 500mg.
There was little difference between products containing absorption enhancers such as piperine (black pepper extract) and those that had none. In fact, piperine containing products were slightly less effective.
Curcumin is well tolerated with few adverse events (rare mild gastrointestinal symptoms).
"Given its high safety and tolerability profile, together with its demonstrated effect, the role of curcumin administration as a new avenue in the treatment of major depression is worth exploring," concluded the reviewers.
Reference:
Al-Karawi D, Al Mamoori DA, Tayyar Y. The Role of Curcumin Administration in Patients with Major Depressive Disorder: Mini Meta-Analysis of Clinical Trials. Phytother Res. 2016 Feb;30(2):175-83.
Tags: Curcumin, Turmeric, Depression
Related Articles
Comments