Eat yourself happy: Diet for depression
Posted on Mon, 25 Jun 12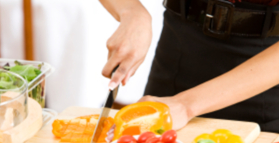 Compared to conditions like heart disease and obesity the evidence connecting food to mood has been lacking, however new evidence has strongly linked nutrition to psychiatry.
In the last few years some compelling evidence that diet is linked to the development of depression has emerged.
In 2009 in the UK it was found that a "processed food" dietary pattern (mostly sweetened desserts, fried food, processed meat, refined grains and high-fat dairy products) strongly predicted the development of depression within 5 years, while a "whole food" pattern (mostly vegetables, fruits and fish) was protective (1). And at the same time in Spain it was shown for the first time that adhering to a traditional Mediterranean style diet prevented depression (2).
A subsequent study in 2010 in Australia came to a similar conclusion when it was discovered that a "traditional" dietary pattern (mostly vegetables, fruit, grass fed meat, fish, and whole grains) was associated with lower odds for major depression or dysthymia and for anxiety disorders compared to a "western" diet of processed or fried foods, refined grains, sugary products, and beer (3).
At the time of publication in the American Journal of Psychiatry an editorialist wrote:
"It is both compelling and daunting to consider that dietary intervention at an individual or population level could reduce rates of psychiatric disorders. There are exciting implications for clinical care, public health, and research (4)."
Through 2010 to 2011 associations between healthy eating and incident depression were demonstrated in Norwegian and Japanese adults and in adolescents (5-7). But despite tremendous evidence to suggest dietary change could prevent, or even treat, depression intervention studies are lacking.
Psychiatry with a fork
Remarkably, there are no randomized controlled trials of dietary change for the treatment of clinical depression. A few reports have looked at the effects of low-carbohydrate, low-fat or calorie restricted diets on mood state but these are not representative of the whole food patterns that have shown positive effects in the observational studies cited above (8).
One particularly interesting report however comes from Dr Dean Ornish and colleagues (9). To ascertain whether people with depression, and established heart disease or diabetes, could make necessary lifestyle changes and reverse their illness a group of men and women were counseled on healthy lifestyle behaviors over three months.
During the treatment the participants attended a supervised lifestyle programmed twice a week where they were encouraged to eat a low-fat plant-based diet (details of which can be found in The Spectrum, by Dean Ornish), engage in aerobic and resistance exercise for 3 hours a week, practice stress management for 1 hour each day and attend support group sessions for 2 hours each week.
Over the three months all participants made the required changes to their diet and lifestyle and those who made greater changes were more likely to improve their health. It was found that 73% of people whose symptoms suggested clinical depression before treatment were no longer depressed, a remarkable result.
In addition to relief from depression there was also evidence of an improvement in psychological well-being with less hostility and perceived stress and improved quality of life. Heart disease and diabetes measures also improved.
While it is impossible to separate the effects of diet alone, this study demonstrates that comprehensive lifestyle change is an effective and safe approach to the treatment of depression.
Importantly all participants made the necessary changes dispelling the presupposition that lifestyle change may be too difficult, in fact those with worse health wore more likely to change. Compared to antidepressant medication, dietary and lifestyle change may not only improve depression but also elevate people to a higher state of physical and psychological wellbeing.
References:
Akbaraly TN, Brunner EJ, Ferrie JE, Marmot MG, Kivimaki M, Singh-Manoux A. Dietary pattern and depressive symptoms in middle age. Br J Psychiatry. 2009 Nov;195(5):408-13.

Sánchez-Villegas A, Delgado-Rodríguez M, Alonso A, Schlatter J, Lahortiga F, Serra Majem L, Martínez-González MA. Association of the Mediterranean dietary pattern with the incidence of depression: the Seguimiento Universidad de Navarra/University of Navarra follow-up (SUN) cohort. Arch Gen Psychiatry. 2009 Oct;66(10):1090-8.

Jacka FN, Pasco JA, Mykletun A, Williams LJ, Hodge AM, O'Reilly SL, Nicholson GC, Kotowicz MA, Berk M. Association of Western and traditional diets with depression and anxiety in women. Am J Psychiatry. 2010 Mar;167(3):305-11.

Freeman MP. Nutrition and psychiatry. Am J Psychiatry. 2010 Mar;167(3):244-7.

Jacka FN, Mykletun A, Berk M, Bjelland I, Tell GS. The association between habitual diet quality and the common mental disorders in community-dwelling adults: the Hordaland Health study. Psychosom Med. 2011 Jul-Aug;73(6):483-90.

Nanri A, Kimura Y, Matsushita Y, Ohta M, Sato M, Mishima N, Sasaki S, Mizoue T. Dietary patterns and depressive symptoms among Japanese men and women. Eur J Clin Nutr. 2010 Aug;64(8):832-9.

Jacka FN, Kremer PJ, Leslie ER, Berk M, Patton GC, Toumbourou JW, Williams JW. Associations between diet quality and depressed mood in adolescents: results from the Australian Healthy Neighbourhoods Study. Aust N Z J Psychiatry. 2010 May;44(5):435-42.

Brinkworth GD, Buckley JD, Noakes M, Clifton PM, Wilson CJ. Long-term effects of a very low-carbohydrate diet and a low-fat diet on mood and cognitive function. Arch Intern Med. 2009 Nov 9;169(20):1873-80.

Pischke CR, Frenda S, Ornish D, Weidner G. Lifestyle changes are related to reductions in depression in persons with elevated coronary risk factors. Psychol Health. 2010 Nov;25(9):1077-100.
Tags: Diet And Depression, Diet And Mental Health, Anxiety, Depression
Related Articles
Comments