Vitamin D treatment relieves depression in adolescents
Posted on Sun, 22 Apr 12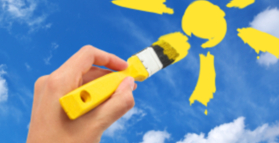 Treatment with vitamin D has been shown to relieve symptoms of depression in a group of Swedish adolescents, a discovery that suggests vitamin D deficiency could be an easily treated cause of depression.
After a group of 54 depressed adolescents had their blood vitamin D tested it was discovered that 48 (89%) of them were vitamin D deficient. The vitamin D deficient group were then supplemented with vitamin D (4000 IU per day for the first month and 2000 IU per day for two more months).
Their vitamin D levels increased significantly from 41 nmol/L to 91 nmol/L and correlated with improvements in well-being. There were also significant improvements in depressed feelings, irritability, tiredness, mood swings, sleep difficulties, weakness, ability to concentrate and pain.
This report suggests that vitamin D deficiency should be investigated and treated in people suffering from symptoms of depression.
Reference:
Högberg G, Gustafsson SA, Hällström T, Gustafsson T, Klawitter B, Petersson M. Depressed adolescents in a case-series were low in vitamin D and depression was ameliorated by vitamin D supplementation. Acta Paediatr. 2012 Feb 28. doi: 10.1111/j.1651-2227.2012.02655.x. [Epub ahead of print]
Tags: Vitamin D, Depression
Related Articles
Comments