Toxic cosmetics linked to breast cancer
Posted on Tue, 13 Mar 18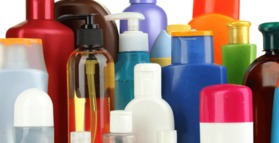 Personal care products such as cosmetics, lotions, and fragrances might increase risk of breast cancer, with frequent users of beauty and skin products at highest risk.
Personal care products are an important source of exposure to hormone-disrupting chemicals linked to cancer, such as phthalates and parabens.
"Women are the primary consumers of many personal care products and are disproportionately exposed to the chemicals within these products," point out the authors of a new study exploring associations with such products and risk of breast cancer. "A national survey of >2,300 U.S. women reported that the average adult woman uses approximately 12 individual personal care products each day and that more than a quarter of all women use ≥15 products per day," they note.
To see if there is an association, researchers examined data on usage patterns of beauty, hair, and skin-related products and breast cancer incidence in a large cohort 46,905 women over an average of 5.4 years.
Over the study period 2,326 women developed breast cancer and it was found that "moderate" and "frequent" users of beauty products had a 10–15% higher risk of breast cancer relative to "infrequent" users. Similarly, frequent users of skincare products had increased risk of breast cancer. In contrast, hair products use were not associated with breast cancer incidence.
In the context of this study, "frequent" use refers to those who reported using a combination of products on a weekly basis.
The study also found that the associations with beauty and skin products were stronger in postmenopausal women than in premenopausal women, although this was not statistically significant. "This finding is consistent with the hypothesis that weak estrogenic effects might have a greater impact during the postmenopausal period because women with lower endogenous estrogen levels are more susceptible to exogenous estrogenic exposures," commented the investigators.
"Evidence that breast cancer may be associated with moderate or frequent beauty product use or with frequent skincare product use may indicate effects of chemicals used in the products," concluded the study, "although noncausal associations resulting from confounding by correlated behaviors and conditions are also possible."
Reference:
Taylor KW, Troester MA, Herring AH, Engel LS, Nichols HB, Sandler DP, Baird DD. Associations between Personal Care Product Use Patterns and Breast Cancer Risk among White and Black Women in the Sister Study. Environ Health Perspect. 2018 Feb 21;126(2):027011.
Tags: Detoxification, Environmental Toxins
Related Articles
Comments