Fast food linked to toxin exposure
Posted on Wed, 26 Oct 16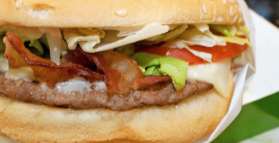 Recently eating fast food is linked to higher body levels of environmental toxins. It is suspected it may be due to chemicals from PVC tubing, vinyl gloves, and food packaging leaching toxins into food. Yum.
It can be hard to identify how unwanted chemicals contaminate our food, and equally difficult to link them to adverse health effects. For example, soft drink cans are an important source of the chemical bisphenol-A (which is used in the internal lining), and BPA has been linked to diabetes, obesity and heart disease, but so have sugar-sweetened beverages [1-3]. This makes clear associations difficult, but not less important.
In a new study a group of scientists analyzed dietary intakes and measures of exposure to identify whether or not recent fast food intake predicted exposure and phthalates, chemicals associated with adverse health effects [4].
Fast food was linked to higher phthalates, with higher levels in those who reported higher fast food consumption (a dose-response relationship). People with high fast food consumption (over 34.9% total energy from fast food) had 20-40% higher levels of phthalates when compared to those who did not eat fast food.
"The complexity and variability of fast food production makes it difficult to identify the sources of high-molecular-weight phthalates," commented the study investigators, 'though some likely sources have been suggested, including PVC gloves, PVC tubing, and plastic packaging."
"Given the concern over chemical toxicity, it is important to identify modifiable sources of exposure that may be targeted for exposure reduction strategies," they said.
References:
Tags: Fast Food, Detox, Detoxification, Environmental Chemicals
Related Articles
Comments