Feel good factor from fruit and vegetables
Posted on Wed, 24 Aug 16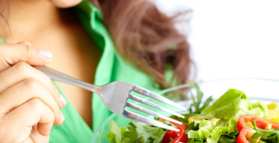 Eating more fruits and vegetables could provide a quick and significant improvement in happiness, life satisfaction, and well-being. "Happiness gains from healthy eating can occur quickly and many years before enhanced physical health," said researchers.
Previous studies have suggested that eating more fruits and vegetables could have very rapid positive mental health benefits, even after a single meal. So to explore the relationship between food and mood a large survey was undertaken.
Researchers looked at food diaries of 12,385 adults and correlations with what people were eating and their emotional well being, after controlling for potential confounders.
"Increased fruit and vegetable consumption was predictive of increased happiness, life satisfaction, and well-being," they found. And maximum benefit was seen with a higher consumption equivalent to an increase of 8 portions a day, with a benefit 'equal in size to the psychological gain of moving from unemployment to employment."
Commenting on the implications of these findings the researchers noted that the "scientific evidence of extra psychological gains from a healthy diet might help to persuade people to raise their intake of fruit and vegetables."
Reference:
Mujcic R, J Oswald A. Evolution of Well-Being and Happiness After Increases in Consumption of Fruit and Vegetables. Am J Public Health. 2016 Aug;106(8):1504-10.
Related Articles
Comments