Plant foods boost positive emotions
Posted on Mon, 27 Feb 17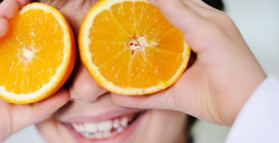 Increasing fruit and vegetable consumption could boost positive mental health, including vitality, flourishing, and motivation, within just 2-weeks.
Most people have heard the expression "brain food" but the research is only just catching up to the popular notion that food could improve your mental health and wellbeing.
Few studies have tested the potential psychological benefits of changing people's diets, and even fewer have examined positive mental health and wellbeing (as opposed to established illnesses such as depression).
"Let them eat fruit!" is the headline of a new study that explored whether increasing fruit and vegetable consumption could improve mood in young adults.
At baseline the study participants were eating fewer than 3 combined servings of fruit and vegetables per day. Then to help them increase their fruit and vegetable intake they were either sent twice daily behavioural change text-messages, or given a supply of fresh, seasonal produce.
Over the study fruit and vegetable consumption increased, as did blood levels of vitamin C plasma carotenoids. Compared to a control group, those eating more fruits and vegetables had improvements to their psychological well-being with increases in vitality, flourishing, and motivation.
Interestingly, text messaging did not increase intake but the provision of fresh produce did.
"…our research suggests that simply educating people about fruits and vegetables (FV) and reminding them to eat their recommended daily intake may not be sufficient in ensuring the wider population reaps the psychological benefits of FV consumption," commented the study investigators.
"It is already established that successful interventions tend to be more personal and more intensive, but perhaps greater emphasis needs to be placed on actually providing people with fresh FV (stocking more FV in dorms, cafeterias, workplaces, substituting fruit for dessert, and offering free fruit for people when they shop)."
Reference:
Conner TS, et al. Let them eat fruit! The effect of fruit and vegetable consumption on psychological well-being in young adults: A randomized controlled trial. PLoS One. 2017 Feb 3;12(2):e0171206.
Tags: Vegetables, Fruits, Positive Psychology, Mood, Emotions
Related Articles
Comments