Chamomile for depression
Posted on Tue, 12 Feb 13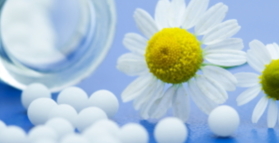 The herb chamomile has a long traditional use for depression and anxiety, and an exploratory study supports its anti-depressant activity.
A research group from the University of Pennsylvania School of Medicine, Philadelphia revisited a previously study demonstrating anti-anxiety effects of Chamomile extract to see if it was effective for depressive symptoms as well.
Of the original participants in the anxiety study it was found that there were important reductions in depression scores across everyone who was treated with Chamomile vs. placebo. In addition those who had established depression had clinically meaningful reductions in depression.
"Chamomile may provide clinically meaningful antidepressant activity that occurs in addition to its previously observed anxiolytic activity" concluded the study. "The identification of safe and effective CAM therapies for depression would be of public-health relevance for many individuals unable or unwilling to use conventional antidepressant therapy."
Reference:
Amsterdam JD, Shults J, Soeller I, Mao JJ, Rockwell K, Newberg AB. Chamomile (Matricaria recutita) may provide antidepressant activity in anxious, depressed humans: an exploratory study. Altern Ther Health Med. 2012 Sep-Oct;18(5):44-9.
Tags: Chamomile, Depression, Anxiety
Related Articles
Comments