Chamomile relieves anxiety
Posted on Wed, 16 Sep 09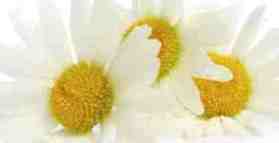 While the calming effects of a cup of chamomile tea are well known, this knowledge has been based on folklore. New research however suggests that chamomile tea really does calm your nerves. A clinical study in anxiety sufferers has found that the herb chamomile (Matricaria recutita) helped to relieve their symptoms (1).
A tea with drug like activity
The anxiety relieving potential of chamomile has been under scientific investigation since the 1980s (2) and it has been reported that chemicals naturally present in chamomile act like common drugs for anxiety (3) without the same side effects (4) although until now there have been no human studies to confirm these findings.
Safe anxiety relief
To determine the anxiety relieving potential of chamomile 61 patients with medically diagnosed mild to moderate anxiety disorder received either chamomile extract (220mg capsules to a maximum dose of 5 capsules a day as needed) or placebo for 8 weeks (1). Compared to placebo people taking chamomile had a significant reduction in anxiety and improvements in overall feelings of wellbeing. Chamomile was well tolerated with more adverse reactions reported by people taking the placebo.
Accepting a cup of tea
"The demonstration of chamomile's efficacy and tolerability in patients with milder generalised anxiety disorder may provide a wider acceptability of anxiolytic treatment in the general medical community" concluded the study investigators.
The herb used in this study was standardised to an active ingredient, apigenin. Chamomile tea also contains significant amounts of apigenin (5) and is recommended at a dose of approximately 3 cups daily (6).
References
1. Amsterdam JD, Li Y, Soeller I, Rockwell K, Mao JJ, Shults J. A randomized, double-blind, placebo-controlled trial of oral Matricaria recutita (chamomile) extract therapy for generalized anxiety disorder. J Clin Psychopharmacol. 2009 Aug;29(4):378-82.
2. Della Loggia R, Traversa U, Scarcia V, Tubaro A. 1982. Depressive effects of Chamomilla recutita (L.) Raush, tubular
flowers, on central nervous system in mice. Pharmacol Res Commun 14: 153 –162.
3. Avallone R, Zanoli P, Corsi L, Cannazza G, Baraldi M. 1996. Benzodiazepine-like compounds and GABA in flower heads of Matricaria chamomilla. Phytother Res 10: S177–S179.
4. Salgueiro JB, Ardenghi P, Dias M, Ferreira MB, Izquierdo I, Medina JH. 1997. Anxiolytic natural and synthetic flavonoid ligands of the central benzodiazepine receptor have no effect on memory tasks in rats. Pharmacol Biochem Behav 58: 887– 891.
5. McKay DL, Blumberg JB. A review of the bioactivity and potential health benefits of chamomile tea (Matricaria recutita L.). Phytother Res. 2006 Jul;20(7):519-30.
6. Braun L, Cohen M. Herbs and Natural Supplements an Evidence Based Guide. 2nd edition. Elsievier Publishing, Australia. 2006.
Tags: Anxiety, Herbal Medicine, Chamomile
Related Articles
Comments