Herbal PMS relief supported by science
Posted on Mon, 3 Aug 09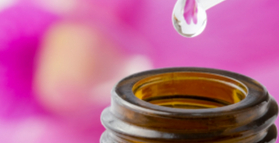 The fruiting berries of Vitex Agnus Castus (Chaste tree) have been used as herbal medicine for more than 2,500 years. The herb was used as a remedy for female health complaints in ancient Egypt, Rome and Medieval Europe and modern research suggests Chaste tree is safe and effective for symptoms of pre-menstrual syndrome (PMS) and breast pain (cyclical mastalgia) [1].
Natural PMS relief
Symptoms of PMS such as anxiety, cravings, depression, bloating, acne, weight gain and nausea will affect up to 90% of women at some point during their lives. As many as 1 in 5 women experience PMS regularly with many suffering severe and life crippling symptoms. Chaste tree has been shown to relieve many of the symptoms of PMS and is considered a safe alternative to treatments such as hormone therapy or drugs [2].
A clinical study published in the British Medical Journal reported a significant improvement in overall symptoms of PMS including irritability, mood changes, anger, headaches and breast fullness in women who took Chaste tree for 3 months [3]. It was concluded that Chaste tree "is well tolerated and effective for the treatment for the premenstrual syndrome." This finding is supported by a number of other clinical studies showing benefit in PMS sufferers [4-6].
Easing breast pain
Breast pain affects up to 30% of premenstrual women often lasting longer than 5 days a month and commonly interfering with sexual, physical, social and work-related activities [7]. Although the exact cause of premenstrual breast pain is unknown it has been suggested to be related to high levels of the hormone prolactin. Chaste tree has been shown to lower high prolactin levels and reduce symptoms of breast pain [8].
A review in the journal Evidence Based Complementary and Alternative Medicine established that in a number of studies Chaste tree was found to be safe, effective and efficient for the treatment of premenstrual breast pain [9].
How much?
The recommended dose of Chaste tree varies but is generally around 1.5-3 grams of dried fruit or 20-40 mg of concentrated herbal extract a day. Significant symptom improvement has been demonstrated after 3 months of continuous use. While Chaste tree is considered safe the herb should be avoided in pregnancy and breast feeding [10].
References
1. Roemheld-Hamm B. Chasteberry. Am Fam Physician. 2005 Sep 1;72(5):821-4
2. Vitex agnus-castus. Monograph. Altern Med Rev. 2009 Mar;14(1):67-71.
3. Schellenberg R. Treatment for the premenstrual 22. syndrome with agnus castus fruit extract: prospective, randomised, placebo controlled study. BMJ 2001;322:134-137.
4. Berger D, Schaffner W, Schrader E, et al. Efficacy of 21. Vitex agnus castus L. extract Ze 440 in patients with pre-menstrual syndrome (PMS). Arch Gynecol Obstet 2000;264:150-153.
5. Lauritzen C, Reuter H, Repges R, et al. Treatment 23. of premenstrual tension syndrome with Vitex agnus castus. Controlled, double-blind study versus pyridoxine. Phytomedicine 1997;4:183-189.
6. He Z, Chen R, Zhou Y, et al. Treatment for premenstrual syndrome with Vitex agnus castus: A prospective, randomized, multi-center placebo controlled study in China. Maturitas. 2009 May 20;63(1):99-103
7. Ader DN, Shriver CD. Cyclical mastalgia: prevalence and impact in an outpatient breast clinic sample. J Am Coll Surg 1997;185:466-70
8. Wuttke W, Jarry H, Christoffel V, et al. Chaste tree (Vitex agnus-castus)--pharmacology and clinical indications. Phytomedicine. 2003 May;10(4):348-57.
9. Carmichael AR. Can Vitex Agnus Castus be Used for the Treatment of Mastalgia? What is the Current Evidence? Evid Based Complement Alternat Med. 2008 Sep;5(3):247-50.
10. Braun L, Cohen M. Herbs and Natural Supplements an Evidence Based Guide. 2nd edition. Elsievier Publishing, Australia. 2006.
Tags: Herbal Medicine, PMS, Chaste Tree
Related Articles
Comments