White willow: safe alternative for pain relief
Posted on Wed, 29 Jul 15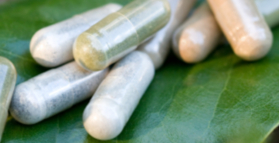 Used for thousands of years, the bark of white willow is a safe and effective natural medicine for pain relief, according to a new scientific review.
White willow (Salix alba) bark has been used for pain relief for at least 2000-years throughout the Mediterranean, Egypt and Europe. One of the active phytochemicals (salicin) in white willow is chemically similar to aspirin (acetylsalicylic acid) although not as irritating to the gut. And the presence of other phytochemicals in the bark appears to improve efficacy and reduce side effects.
Reviewing the efficacy and safety in the journal Phototherapy Research five clinical studies were identified and all supported the benefits of white willow extract for pain relief, especially chronic lower back pain, joint pain and osteoarthritis.
Furthermore side effects appear to be minimal compared to non-steroidal anti-inflammatory drugs such as aspirin, with no serious adverse reaction ever reported despite widespread use. However, people who are allergic to aspirin should avoid using white willow extract.
The typical dose of white willow bark used in clinical studies is an extract providing from 120mg to 240mg salicin daily, which is lower than a typical daily dose of aspirin (500 mg).
Reference:
Shara M, Stohs SJ. Efficacy and Safety of White Willow Bark (Salix alba) Extracts. Phytother Res. 2015 May 22. doi: 10.1002/ptr.5377. [Epub ahead of print]
Tags: White Willow, Pain, Arthritis, Herbal Medicine
Related Articles
Comments