Prebiotics reduce anxiety
Posted on Wed, 24 Aug 16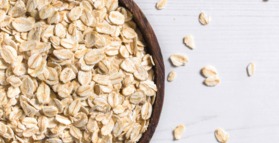 A study adds to evidence that prebiotic fibre could could be useful for people with digestive complaints, showing that it significantly improves gut bacteria and reduces symptoms of anxiety.
People with digestive complaints indicative of irritable bowel syndrome (IBS) tend to have alterations in their gut bacteria species and metabolism that could underlie their symptoms. A number of studies have found reduced numbers of Bifidobacteria species [1], and lower production of a bacterial metabolite called butyrate [2] which are both thought to be particularly important not only in the generation of digestive symptoms, but other problems such as depression and anxiety [3].
Prebiotic fibers can increase bifidobacteria growth and butryrate production, which is why prebiotic supplementation has been studied in people with digestive complaints. A previous study, for example, found that taking 5 g per day of fructo-oligosaccharides helped to reduce digestive symptoms [4].
To see if prebiotics would help people with IBS a group of people were give 5 g of fructo-oligosaccharides or a placebo daily for 4-weeks. At the end of the study they found no real difference between treatments on digestive symptoms, although there was a very strong placebo response so its hard to say if it helped or not. But there was a significant increase in bifidobateria and reduction in symptoms of anxiety. Importantly, the level of anxiety at the beginning of the study was high so this was considered a clinically significant discovery.
So although the fructo-oligosaccharides did not clearly reduce digestive complaints compared to placebo, they did benefit gut bacteria and reduce symptoms of anxiety.
"The link between modulation of the gut microbiota and a reduction of depression and anxiety score has already been observed in a few studies evaluation pre-or probiotic supplementation," commented the authors. "And more generally more and more studies acknowledge the link between gut microbiota and anxiety especially in the case of patients with irritable bowel syndrome."
References:
Roberfroid MB, Gibson GR, Hoyles L, et al. Prebiotic effects: metabolic and health benefits. Br J Nutr. 2010;104: 111–111.
Tana C, Umesaki Y, Imaoka A, Handa T, Kanazawa M, Fukudo S. Altered profiles of intestinal microbiota and organic acids may be the origin of symptoms in irritable bowel syndrome. Neurogastroenterol Motil. 2010;22:512–519.
Paineau D, Payen F, Panserieu S, et al. The effects of regular consumption of short-chain fructo-oligosaccharides on digestive comfort of subjects with minor functional bowel disorders. Br J Nutr. 2008;99:311–318.
Mayer EA, Savidge T, Shulman RJ. Brain-gut microbiome interactions and functional bowel disorders. Gastroenterology. 2014 May;146(6):1500-12.
Azpiroz F, Dubray C, Bernalier-Donadille A, et al. Effects of scFOS on the composition of fecal microbiota and anxiety in patients with irritable bowel syndrome: a randomized, double blind, placebo controlled study. Neurogastroenterol Motil. 2016 Jul 31. ndoi: 10.1111/nmo.12911. [Epub ahead of print]
Tags: Prebiotics, Irritable Bowel Syndrome, Anxiety
Related Articles
Comments