Date fruit improve gut health and reduce toxicity
Posted on Wed, 25 Nov 15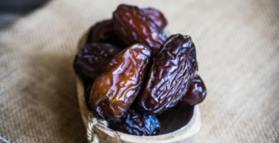 Palm date fruits are rich in phytonutrients and soluble fibre. New clinical research suggests they can quickly improve your digestive health.
Although mostly a food staple in North Africa and the Middle East, dates are enjoyed throughout the world and are considered a functional or super food because they are a particularly good dietary source of phytonutrient polyphenols and soluble fibre.
Both fibre and polyphenols have important prebiotic effects, meaning that they can improve gut bacteria and may have important health benefits as a consequence.
In a clinical study a group of people were randomly assigned to either a control group (maltodextrin-dextrose) or an intervention group (seven dates, approximately 50 g) for 21-days (1). During the study their gut health was measured clinically and with metabolic markers.
The addition of dates to their daily diet was found to significantly improve bowel movements and stool frequency suggesting better digestive function. And metabolic markers also improved with significant reductions stool ammonia concentration and reduced genotoxicity in faecal water, which is used as a marker of colon cancer risk. However, there were no detectable changes in gut bacteria.
"Our data indicate that consumption of date fruit may reduce colon cancer risk without inducing changes in the microbiota," commented the study researchers. "Because dates contain high amounts of fibre and polyphenols compared with other types of fruit, it can be easily consumed as a snack and has a long shelf life," they said, which makes dates an interesting functional food for digestive heath.
Although sweet, dates do not negatively affect your blood glucose when consumed as part of a healthy diet (2).
References:
Eid N, Osmanova H, Natchez C, Walton G, Costabile A, Gibson G, Rowland I, Spencer JP. Impact of palm date consumption on microbiota growth and large intestinal health: a randomised, controlled, cross-over, human intervention study. Br J Nutr. 2015 Oct;114(8):1226-36.

Rock W, Rosenblat M, Borochov-Neori H, Volkova N, Judeinstein S, Elias M,

Aviram M. Effects of date ( Phoenix dactylifera L., Medjool or Hallawi Variety) consumption by healthy subjects on serum glucose and lipid levels and on serum oxidative status: a pilot study. J Agric Food Chem. 2009 Sep 9;57(17):8010-7.
Tags: Dates, The Digestive Health Solution, Prebiotics, Gut Health, Digestive Health
Related Articles
Comments