Herbs and natural supplements for anxiety
Posted on Tue, 16 Oct 12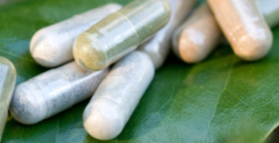 A comprehensive review article of natural medicines for anxiety has highlighted some important benefits of herbal and nutritional treatments over drugs.
Key points from the review include:
Drugs used to treat anxiety have many negative side effects including addiction, depression, suicide, seizures, sexual dysfunction, headaches and more.
Anxiolytic medications do not restore normal levels of neurotransmitters but instead manipulate the brain chemistry. For example, selective serotonin reuptake inhibitors (SSRIs) prevent the reuptake of serotonin from the synapse allowing serotonin to remain in the area of activity for a longer period of time but do not correct the lack of serotonin production.
Often, the brain becomes accustomed to medications and they often lose their effectiveness, requiring higher doses or different drugs.
In contrast to anxiolytic drugs, there are herbs and nutrients which can stimulate neurotransmitter synthesis and more naturally effect and even adjust brain chemistry in the absence of many of the side effects experienced with drugs.
Natural supplements with some supportive evidence discussed in the review include amino acids (e.g. tryptophan and theanine) minerals (magnesium and selenium) fatty acids (omega-3) vitamins (vitamins C, E and D) and herbal supplements (e.g. St John's wort, Withania, Kava kava, Lemon Balm, Passionflower, Rhodiola and Chamomile).
Reference:
Alramadhan E, Hanna MS, Hanna MS, Goldstein TA, Avila SM, Weeks BS. Dietary and botanical anxiolytics. Med Sci Monit. 2012 Apr;18(4):RA40-8.
Tags: Anxiety
Related Articles
Comments