Saffron vs. stimulant drugs for ADHD
Posted on Thu, 11 Apr 19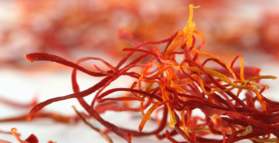 In a comparative clinical trial the herb saffron was found to be as effective as medication for children with attention-deficit/hyperactivity disorder (ADHD).
Saffron is well known for its use as a spice in cooking, but it also has a long history of use as a herbal medicine and has been studied for mood and neurological disorders. For example, several clinical studies provide evidence of an important anti-depressant effect of saffron, which notably has no more side-effects than placebo [1].
Because safer alternatives to stimulant and anti-depressant medications would be of benefit in the management of children with ADHD, a clinical trial of saffron was performed to explore whether or not it might be a candidate treatment option [2].
Children 6-17 years old with a diagnosis of ADHD were enrolled in a 6-week randomized double-blind study to received either saffron extract at a dose of 20–30 mg per day depending on weight (20 mg for <30 kg and 30 mg for >30 kg) or methylphenidate (Ritalin).
Saffron was found to be just as effective as methylphenidate for reducing symptoms according to teacher and parent ADHD rating scale scores. Saffron was also very well tolerated with less adverse effects than methylphenidate.
'To the best of our knowledge, this randomized, double-blind study is the first to be published on the effects of saffron extract for treatment of ADHD in comparison to a stimulant," noted the study investigators. Also commenting that "the results of this study must be considered as preliminary."
"Considering the memory-enhancing and antidepressant effects of saffron, future studies on the effectiveness of saffron compared with placebo should include a broader spectrum of ADHD patients, including those with comorbid mood and anxiety disorders, sleep problems, and ADHD patients with inattentive presentation" they concluded.
References:
1. Tóth B, Hegyi P, Lantos T, et al. The Efficacy of Saffron in the Treatment of Mild to Moderate Depression: A Meta-analysis. Planta Med. 2019 Jan;85(1):24-31.
2. Baziar S, Aqamolaei A, Khadem E, et al. Crocus sativus L. Versus Methylphenidate in Treatment of Children with Attention-Deficit/Hyperactivity Disorder: A Randomized, Double-Blind Pilot Study. J Child Adolesc Psychopharmacol. 2019 Feb 11. doi: 10.1089/cap.2018.0146. [Epub ahead of print]
Tags: Saffron, Adhd, Mental Health
Related Articles
Comments