Micronutrients help adults with psychosis
Posted on Mon, 27 Mar 17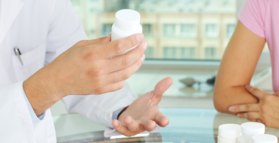 Adding vitamin and mineral supplementation to conventional care was shown to result in less medication use and better treatment outcomes.
Dietary supplementation with multiple micronutrient formulations have been shown to help in the management of stress, anxiety, aggression, low mood, and attention-deficit/hyperactivity disorder, amongst other symptoms [1]. However, few published studies have assessed the impact of such formulations on adult psychosis.
A new study assessed the clinical effect of micronutrient supplementation in adults diagnosed with a psychotic disorder including schizophrenia and schizoaffective disorder [2].
The patients received a broad-spectrum micronutrient supplement and fish oil (providing 2000mg eicosapentaenoic acid daily) in addition to their medication over 24-months.
After the first 3-months there was less use of antipsychotic medication in the group receiving nutritional supplementation, and this became statistically significant by 6-months. There was also significantly fewer symptoms than the medication-only group, and the reduction in symptoms with nutritional therapy was even stronger at 24 months.
"…almost no side effects were seen with micronutrients, and it was possible to decrease the dose of conventional medication needed to achieve a therapeutic benefit, which was associated with reduction in dose-related side effects," commented the study investigators.
"Micronutrients appear to be useful adjuncts to psychotropic medications in the long-term treatment of psychosis," they commented. "Patients taking micronutrients dramatically reduced their dose and experienced fewer side effects than those taking only medications. Further research is indicated."
References:
Rucklidge JJ, Kaplan BJ. Broad-spectrum micronutrient formulas for the treatment of psychiatric symptoms: a systematic review. Expert Rev Neurotherap 2013;13: 49–73.
Mehl-Madrona L, Mainguy B. Adjunctive Treatment of Psychotic Disorders with Micronutrients. J Altern Complement Med. 2017 Jan 19. doi: 10.1089/acm.2016.0215. [Epub ahead of print]
Tags: Psychosis, Schizophrenia, Schizoaffective Disorder, Bipolar, Mental Health, Nutritional Psychiatry, Orthomolecular Medicine
Related Articles
Comments