Fish oil prevents psychosis
Posted on Tue, 29 Sep 15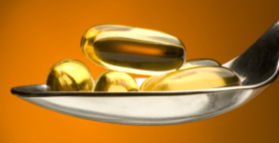 People at high risk of developing psychotic symptoms may significantly reduce their long-term risk of developing psychosis with use of fish oil, according to new research.
In a previous clinical study, adolescents and young adults with a very high risk of developing psychosis (early symptoms and genetic risk) who were given a fish oil supplement providing 700 mg of eicosapentaenoic acid [EPA] and 480 mg of docosahexaenoic acid [DHA] daily for 12-weeks were shown to have a significant reduction in risk of transitioning to psychosis over the subsequent 12-months (1). In fact, the reduction was similar to antipsychotic medication.
To see is the effects were maintained in the long-term the research group recently reported the results of this randomized, double blind, placebo-controlled trial, at a median of 6.7 years follow-up (2). They demonstrated that the conversion rate to psychosis was 9.8% of subjects in the fish oil group, compared to 40% of subjects in the placebo group. Furthermore, the group who took fish oil had significantly better psychosocial functioning and lower rate of antipsychotic drug prescriptions.
"Claims of preventing major health problems invite skepticism and create controversy," commented the investigators, however this is a well-conducted study with many methodological strengths. "This first of its kind trial suggests that omega-3 PUFAs may offer a viable longer-term prevention strategy with minimal associated risk in young people at ultrahigh risk of psychosis," they conclude.
References:
1. Amminger GP, et al. Long-chain omega-3 fatty acids for indicated prevention of psychotic disorders: a randomized, placebo-controlled trial. Arch Gen Psychiatry. 2010 Feb;67(2):146-54.
2. Amminger GP, et al. Longer-term outcome in the prevention of psychotic disorders by the Vienna omega-3 study. Nat Commun. 2015 Aug 11;6:7934.
Tags: Fish Oil, Omega 3, Depression, Anxiety, Mental Health
Related Articles
Comments