Do fruits and vegetables help you flourish emotionally?
Posted on Sun, 9 Nov 14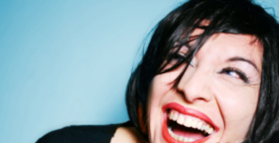 It is known that food can affect your mood but a new study takes the connection to the next level with the finding that eating plenty of fruit and vegetables may be related to emotional flourishing, creativity and curiosity.
To see if fruit and vegetable consumption is related to more than the lower risk of depression found in previous research, a group of researchers investigated possible relationships with positive mood states such as emotional "flourishing" (engagement, meaning, and purpose in life) as well as creativity and curiosity.
During the study, participants reported their mood and food for 13-days and the results were remarkable; fruit and vegetable (FV) consumption predicted greater flourishing, curiosity, and creativity and those who ate more FV reported higher average flourishing, more intense feelings of curiosity, and greater creativity compared with those who ate less. They even found changes on a daily basis depending on their diet.
This extraordinary investigation suggests fruit and vegetables may improve emotional and mood states not considered before, however these findings are based on a correlation so cannot yet prove cause or effect.
"Although at this stage, we cannot say that eating carrots will make you more curious or that eating fruit will help you flourish, our results provide a first line of evidence by showing between- and within-person associations between these states" commented the investigators.
Reference:
Conner TS, Brookie KL, Richardson AC, Polak MA. On carrots and curiosity: Eating fruit and vegetables is associated with greater flourishing in daily life. Br J Health Psychol. 2014 Jul 30. doi: 10.1111/bjhp.12113. [Epub ahead of print] - link to abstract
Tags: Fruit And Vegetables, Mental Health, Brain Health
Related Articles
Comments