Gluten-free diet cures psychosis
Posted on Wed, 29 Jul 15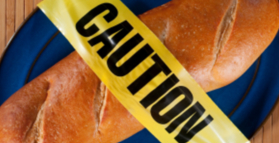 A gluten-free diet has been shown to cure severe mental illness in a young girl, raising the question of how many similar cases of "gluten psychosis" remain undiagnosed.
A recent report describes a case where severe mental health symptoms were found, by accident, to resolve after a gluten-free diet. A 14-year-old girl with a history of psychiatric symptoms including hallucinations, depression, distorted and paranoid thinking and suicidal thoughts had previously been treated unsuccessfully with a variety of medications.
By chance the girl was referred to a nutritionist when she developed gastrointestinal symptoms and placed on a gluten-free diet. Within a week of the diet her gastrointestinal symptoms dramatically improved, and unexpectedly so did her psychological symptoms. In the coming months it was noticed that accidental exposure to gluten would result in return of her symptoms.
Eventually she was referred to a gastroenterology clinic where testing confirmed non-celiac gluten sensitivity and she was placed on a strict gluten-free diet. Within one-month her test results improved and she was taken of her antipsychotic medication because her symptoms had normalized and she has since remained symptom free.
Importantly, this is not an isolated finding as autism, schizophrenia and depression have been associated with non-celiac gluten sensitivity before.
The clinical team involved commented, "…psychotic disorders in children and young people (up to age 17 years) are the leading causes of disability, owing to disruption to social and cognitive development. Shedding light on the possible role of gluten in this context may significantly change the life for a subset of these patients, as shown by the case described in this case-report."
Reference:
Lionetti E, Leonardi S, Franzonello C, Mancardi M, Ruggieri M, Catassi C. Gluten Psychosis: Confirmation of a New Clinical Entity. Nutrients. 2015 Jul 8;7(7):5532-9.
Tags: Gluten, Gluten Free Diet, Non Celiac Gluten Sensitivity, Celiac Disease, Mental Health
Related Articles
Comments