Probiotics help people with celiac disease recover
Posted on Thu, 11 Apr 19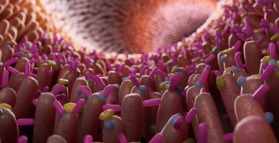 Even after a strict gluten-free diet digestive symptoms can continue to be an important problem for people with celiac disease. A promising new study suggests probiotics might help.
Irritable bowel syndrome (IBS)-symptoms affect about 38% of people with celiac disease despite a strictly following a gluten-free diet with no well established treatments options to help resolve symptoms.
One possibility is that an imbalance in gut bacteria, or dysbiosis, could be responsible, so based on this observation a research group decided to test a probiotic in celiac disease patients who had IBS-symptoms despite a strict gluten-free diet.
Over a 6-week treatment period the study participants took either a placebo or the probiotic mixture (5 strains of Lactobacillus and Bifidobacteria) at a dose of 40 billion CFU once daily.
Clinical assessments revealed that the probiotic significantly reduced digestive symptoms, including pain, compared to placebo. In addition, those taking probiotics had changes in their gut bacteria, including an increase in Bifidobacterium and lactic acid bacteria such as Lactobacillus.
A small number of previous studies have assessed probiotics in people with celiac disease but with inconsistent evidence of benefit. The authors of the current study suggest that one reason for their good results may be that they found a positive modification of gut bacteria, which has not been demonstrated in previous studies.
"In recent years, an increasing amount of data have appeared with regard to the role of gut microbiota in celiac disease patients, suggesting that dysbiosis could result in a modification of the mucosal homeostasis, causing persistent immune activation and clinical symptoms," commented the authors. "If we consider the alterations of gut microbiota as an environmental factor involved in celiac disease expression, probiotic administration may have a primary role in the overall manifestation of the disease."
Reference:
Francavilla R, Piccolo M, Francavilla A, et al. Clinical and Microbiological Effect of a Multispecies Probiotic Supplementation in Celiac Patients With Persistent IBS-type Symptoms: A Randomized, Double-Blind, Placebo-controlled, Multicenter Trial. J Clin Gastroenterol. 2019 Mar;53(3):e117-e125.
Tags: Celiac Disease, Gluten, Probiotic
Related Articles
Comments