Better omega-3 intake improves kids mental health
Posted on Tue, 27 Oct 15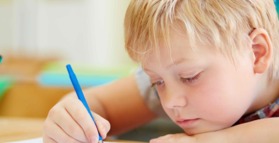 Attention deficit/hyperactivity disorder (ADHD) is commonly treated with stimulant medication, but improving intake of omega-3 can help according to a new study in the journal Neuropsychopharmacology.
Approximately 11 % of U.S. children aged 4 to 17 have been diagnosed with ADHD and more than half of them are taking stimulant medications such as Ritalin. There is concerning evidence of increases in emotional problems among girls, and reductions in educational attainment among boys taking medication. And there is little evidence of positive effects on academic outcomes or schooling attainment (1).
Better care than drug therapy is clearly needed and integrative approaches that incorporate nutritional medicine deserve more attention (2). One treatment that is emerging as a safe and effective approach is improving intake of omega-3, a nutrient important for optimal brain health, which has been shown to improve symptoms in several studies (3).
The results of a new study add further support to the benefits of omega-3 (4). Children with and without ADHD were given either 650 mg of eicosapentaenoic acid (EPA) and 650 mg docosahexaenoic acid (DHA) or placebo for 16-weeks. Compared to placebo, omega-3 supplementation improved symptoms of inattention in children with ADHD.
Interestingly, the omega-3 supplement also improved measures inattention in children without ADHD which suggests that better nutrition can also improve mental health in developing children.
Currently the American Psychiatric Association recommends an EPA+DHA intake of 1 gram per day (from food and/or supplements) for optimal mental health and studies have found that doses in the range of 1–4 grams per day of EPA+DHA are effective, safe and well tolerated in children, adolescents, and adults (5).
References:
Currie, J., Stabile, M., & Jones, L. E. Do Stimulant Medications Improve Educational and Behavioral Outcomes for Children with ADHD? (2013). Cambridge, MA: National Bureau of Economic Research.
Lake, J. Integrative Management of ADHD: What the Evidence Suggests. Psychiatric times. July 07, 2010.
Bloch MH, Qawasmi A. Omega-3 fatty acid supplementation for the treatment of children with attention-deficit/hyperactivity disorder symptomatology: systematic review and meta-analysis. J Am Acad Child Adolesc Psychiatry. 2011 Oct;50(10):991-1000.
Bos DJ, et al. Reduced Symptoms of Inattention after Dietary Omega-3 Fatty Acid Supplementation in Boys with and without Attention Deficit/Hyperactivity Disorder. Neuropsychopharmacology. 2015 Sep;40(10):2298-306
McNamara RK, Strawn JR. Role of Long-Chain Omega-3 Fatty Acids in Psychiatric Practice. PharmaNutrition. 2013 Apr;1(2):41-49.
Tags: ADHD, Mental Health, Brain Health, Omega 3, Fish Oil
Related Articles
Comments