Climate change: a call to action
Posted on Thu, 7 Mar 19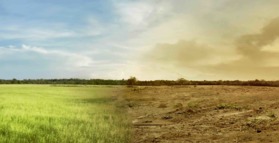 Climate change is a tremendous threat to human health, with alarming projections for the near future. A recent review in the New England Journal of Medicine serves as a stark warning and call to action for health professionals.
The impact of climate change on human health is already clearly evident and set to get worse warn Dr Andy Haines, from the From the Departments of Public Health, Environments, and Society and of Population Health, London School of Hygiene and Tropical Medicine, London, and Dr Kristie Ebi from the Departments of Global Health and of Environmental and Occupational Health Sciences, University of Washington, Seattle.
In a review and primer for health professionals they comment that "if no additional actions are taken, then over the coming decades, substantial increases in morbidity and mortality are expected in association with a range of health outcomes, including heat-related illnesses, illnesses caused by poor air quality, undernutrition from reduced food quality and security, and selected vectorborne diseases (illnesses caused by pathogens and parasites) in some locations; at the same time, worker productivity is expected to decrease, particularly at low latitudes."
Projected impacts of climate change are startling. "The World Health Organization (WHO) estimated that approximately 250,000 deaths annually between 2030 and 2050 could be due to climate change–related increases in heat exposure in elderly people, as well as increases in diarrheal disease, malaria, dengue, coastal flooding, and childhood stunting." Although these estimates are conservative as it neglects other climate-sensitive health outcomes, note Haines and Ebi.
As an example, "a climate change–associated net increase of 529,000 adult deaths worldwide was projected to result from expected reductions in food availability (particularly fruit and vegetables) by 2050, as compared with a reference scenario."
Some of the health effects attributable to climate change include injuries, fatalities and mental health effects of extreme weather events, heat-related illness and death due to heat stress, exacerbations of asthma and other respiratory diseases, respiratory allergies and cardiovascular disease due to poor air quality, and infectious disease related to changes in water quality and quantity, food safety and ecology, amongst many others.
"Health professionals have leading roles to play in addressing climate change," they state. "They can support health systems in developing effective adaptation to reduce the health risks of climate change, promote healthy behaviors and policies with low environmental impact, support intersectoral action to reduce the environmental footprint of society in general and the health care system specifically, and undertake research and education on climate change and health. The pervasive threats to health posed by climate change demand decisive actions from health professionals and governments to protect the health of current and future generations."
References:
1. Haines A, Ebi K. The Imperative for Climate Action to Protect Health. N Engl J Med. 2019 Jan 17;380(3):263-273.
2. Solomon CG, LaRocque RC. Climate Change - A Health Emergency. N Engl J Med. 2019 Jan 17;380(3):209-211.
Tags: Climate Change, Global Health, Environmental Health, Planetary Health, Wholistic Medicine
Related Articles
Comments