Climate change is the biggest global health threat of the 21st century
Posted on Fri, 18 Dec 09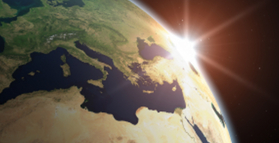 We are rapidly approaching what is widely accepted as an irreversible tipping point for climate change. The impending threat of this human driven disaster to our health is monumental and was captured in the aptly titled report by The Lancet and the University College London Institute for Global Health Commission; "Climate change is the biggest global health threat of the 21st century (1)."
An inconvenient truth
Climate change is no longer a speculated phenomena but a rapidly accelerating reality. Already climate change is affecting the health of many through drought, water and food shortages, natural disasters, extreme weather patterns, war over resources and changing patterns in the spread of infectious diseases. However, the sheer magnitude of this threat to humanity seems lost in political debate.
In an editorial in the Medical Journal of Australia entitled "Climate change and human health: recognising the really inconvenient truth" the authors wrote; "preoccupation with the technical details of climate change science, and with economic costs, property protection and the politics of shared responsibility, has overshadowed full appreciation of the consequences for human health and survival (2)."
Time for change
The same actions needed to combat climate change are also those necessary for changing our health and reducing the burden of chronic disease. "A low-carbon economy will mean less pollution. A low-carbon diet (especially eating less meat) and more exercise will mean less cancer, obesity, diabetes, and heart disease (3)." These same actions will also be critical in deciding the fate of our planet and the survival of our species.
Professor Hugh Montgomery from the University College London Institute for Human Health and Performance recently wrote; "There is now no dispute about climate change: it is happening, and human activity is driving it. Each day, the threat this poses becomes clearer--threatening our civilisation and also the survival of our species. The immediacy of this threat is also now recognised: it is not something 'for the next millennium' but for our lifetimes and those of our children. Without urgent action, the future is grim. But we can all respond to make the difference. And the time to do so is now (4)."
References
1. Costello A, Abbas M, Allen A,et al. Managing the health effects of climate change: Lancet and University College London Institute for Global Health Commission. Lancet. 2009 May 16;373(9676):1693-733.
2. Anthony J McMichael and Colin D Butler. Climate change and human health: recognising the really inconvenient truth. MJA 2009; 191 (11/12): 595-596
3. Jay M, Marmot MG. Health and climate change. Lancet. 2009 Sep 19;374(9694):961-2.
4. Montgomery H. Climate change: how grave the threat? Clin Med. 2009 Aug;9(4):309-10.
Tags: Climate Change, Environment
Related Articles
Comments