Green olives are a probiotic super food
Posted on Wed, 1 Jun 16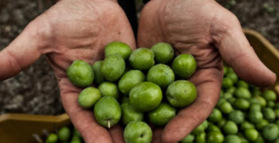 A clinical study has shown that eating green Sicilian olives for 30-days can reduce oxidative stress and inflammation, result in weight loss, and improve digestive health.
Olives and olive oil are important components of the traditional Mediterranean diet, which has been associated with robust protection against several chronic diseases. Table olives, which are consumed regularly, are rich in monosaturated fatty acids and phytonutrients with anti-inflammatory, anti-oxidant, and cardio-protective effects (1). They are also a fermented food and provide bacteria such as lactobacilli that may have probiotic effects (2).
Few studies however have looked at the effects of eating olives on biomarkers of health. So, to put olives to the test a research group from the University of Palermo, Italy, conducted a clinical trial in which people consumed 12-table green olives per day for 30-days.
For the study they used table green olives Nocellara del Belice, also known as Sicilian olives, because they have a medium to high content of polyphenols compared to other olives. They also confirmed the amount of Lactobacilli in the olives with microbiological and molecular analyses showing that 12 olives provided approximately 20 million Lactobacilli per day.
After 30-days the olives had some impressive effects; there was a significant reduction in oxidative stress (measured with malondialdehyde) and inflammation (interleukin-6). They also found that the olives reduced of fat mass with and increased muscle mass, signifying a possible benefit of olives on body composition. And there was also a small increase in Lactobacilli in the olive eaters, suggesting a probiotic effect.
"This pilot study demonstrates an anti-inflammatory and anti-oxidant effect of daily consumption of green table olives Nocellara del Belice," commented the study investigators. "Moreover, it is noteworthy the reduction of fat mass with an increase of muscle mass," which they propose could be due to the ability of healthy fats in olives to improve fat metabolism.
"In the era of many expansive and mysterious longevity elixirs, the olives could represent a traditional, cheap and accessible to everyone "healthy food," they concluded.
References:
Uylaşer V, Yildiz G. The historical development and nutritional importance of olive and olive oil constituted an important part of the Mediterranean diet. Crit Rev Food Sci Nutr. 2014;54(8):1092-101.
Hurtado A, et al. Lactic acid bacteria from fermented table olives. Food Microbiol. 2012 Aug;31(1):1-8.
Accardi G, et al. Nutraceutical effects of table green olives: a pilot study with Nocellara del Belice olives. Immun Ageing.2016 Apr 5;13:11.
Tags: Olives, Super Food, Probiotics, Fermented Foods, Inflammation, Oxidative Stress
Related Articles
Comments