Fish oil EPA vs. DHA myth debunked
Posted on Mon, 8 Aug 16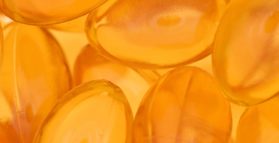 Purified EPA dietary supplements are often sold as being more effective for reducing inflammation than regular omega-3. Turns out this is wrong.
Have a look and you will find purified or high potency eicosapentaenoic acid (EPA) supplements sold as better for reducing inflammation or generally "more active" than products like regular fish oil.
The problem is that this theory is largely theoretical with almost no clinical studies actually comparing the anti-inflammatory effect of EPA to the other main omega-3 fatty acid in fish oil, docosahexaenoic acid (DHA), in a human clinical study.
To see if one is better than the other a 10-week, head-to-head study was performed in people with subclinical systemic inflammation. Addressing the gap in our knowledge of the differences between EPA and DHA is important, said the study investigators, because "EPA plus DHA supplements are broadly recommended by various health agencies, including the American Heart Association, for ischemic heart disease risk prevention or the management of triglycerides."
The study revealed that DHA is more effective than EPA in reducing inflammatory markers, including IL-18, CRP and TNF-α. When compared with EPA, DHA also led to more pronounced reductions in triglycerides, the cholesterol:HDL-cholesterol ratio and greater increases in HDL cholesterol.
"To the best of our knowledge, this is the first study that was designed specifically to provide a head-to-head comparison of the effects of EPA and DHA on inflammation markers as a primary outcome in both men and women," they concluded. "Data indicate that DHA may be more effective than EPA in attenuating systemic inflammation and modulating plasma lipid risk factors in healthy men and women with abdominal obesity and subclinical systemic inflammation."
When considering fish oil supplements it may be better to choose one that naturally contains both EPA and DHA, rather than a purified EPA supplement.
Reference:
Allaire J, Couture P, Leclerc M, et al. A randomized, crossover, head-to-head comparison of eicosapentaenoic acid and docosahexaenoic acid supplementation to reduce inflammation markers in men and women: the Comparing EPA to DHA (ComparED) Study. Am J Clin Nutr. 2016 Aug;104(2):280-7.
Tags: EPA, DHA, Fish Oil, Inflammation
Related Articles
Comments