Flaxseed better than a probiotic?
Posted on Sun, 23 Aug 15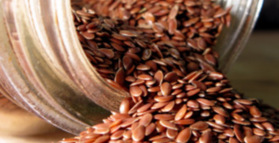 Daily use of flaxseed, but not a probiotic, has been show to improve gut bacteria and insulin sensitivity in overweight women.
Improving the health of your gut bacteria could improve the health of your whole body, which is why simple nutritional interventions such as prebiotic and probiotic foods are so promising.
Dietary manipulation of gut flora with a probiotic (Lactobacillus paracasei F19) or flaxseed mucilage (extracted from whole flaxseed) was studied in a group of postmenopausal obese women, and the study aimed to look at the effects of these interventions on the gut microbiota and metabolic risk markers.
Over 6-weeks the flaxseed, but not the probiotic improved insulin release during an oral glucose tolerance test and improved insulin sensitivity. Flaxseed mucilage also changed the abundance of thirty-three metagenomic species of gut bacteria.
'The present study shows that daily intake of flaxseed mucilage over 6 weeks can improve insulin sensitivity and modify the gut microbiota in individuals with obesity," wrote the study investigators.
While the probiotic used in this study was not effective it did influence gut bacteria in a previous study when administered as a fermented milk beverage. It's likely that a different probiotic or Lactobacillus paracasei F19 in a fermented milk product would have worked just fine, lots research has found they do.
If you want to try flaxseed add a 1-2 tablespoons of milled or crushed flaxseeds (linseeds) to foods or smoothies each day.
Reference:
Brahe LK, et al. Dietary modulation of the gut microbiota - a randomised controlled trial in obese postmenopausal women. Br J Nutr. 2015 Jul 2:1-12. [Epub ahead of print]
Tags: Flaxseed, Linseed, Probiotic, Gut Bacteria, Prebiotic
Related Articles
Comments