Fermented foods reduce social anxiety
Posted on Mon, 22 Jun 15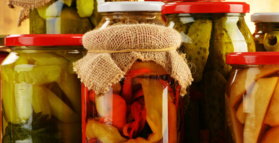 Probiotics have been shown to influence our mood and a new study has found that fermented foods rich in probiotics may reduce social anxiety.
Fermented foods provide a rich dietary source of potentially probiotic bacteria that could influence our own gut ecosystem and, in turn, our mental health.
This fascinating area or emerging research spurred a team of investigators to see if regular consumption of fermented foods was associated with neuroticism and social anxiety symptoms (also known as social phobia).
Social anxiety disorder is one of the most prevalent psychiatric disorders and is characterized by significant distress or impairment in social settings.
By measuring fermented food consumption, neuroticism and social anxiety in a group of young adults then looking for interactions while controlling for confounding factors the research group discovered that neuroticism significantly and independently predicted higher levels of social anxiety while exercise frequency and fermented food consumption predicted lower social anxiety.
And in those with higher ratings of neuroticism, higher frequency of fermented food consumption was associated with fewer symptoms of social anxiety.
"This study provides the first connection between natural fermented food consumption patterns and anxiety," wrote the investigators. 'Increased consumption of fermented foods likely to contain probiotics was associated with fewer social anxiety symptoms. This effect was qualified by an interaction with neuroticism; those who were highly neurotic showed fewer symptoms of social anxiety with greater consumption of fermented foods."
Reference:
Hilimire MR, DeVylder JE, Forestell CA. Fermented foods, neuroticism, and social anxiety: An interaction model. Psychiatry Res. 2015 Aug 15;228(2):203-8.
Tags: Fermented Foods, Anxiety, Probiotics
Related Articles
Comments